Henson plans "Varjak Paw" animated film
Creative team behind successful book will help bring it to the big screen
Courtesy of The Jim Henson Company
March 24, 2006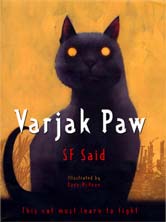 "Varjak Paw", the award-winning fantasy novel by SF Said, has been optioned by The Jim Henson Company to be developed as an animated family feature film. Dave McKean, illustrator of the book and director of Henson's most recent feature "MirrorMask," is attached to direct. McKean and Said will co-write the screenplay. The deal also includes an option on "The Outlaw Varjak Paw", the second book in the series that was recently released. The announcement was made today by Lisa Henson, co-CEO of The Jim Henson Company and a producer on the film.
"Varjak Paw" is a story about a Mesopotamian blue kitten who embarks on a journey to save his family and in the process discovers he is part of a mystical tradition of magical martial arts. The book, which is popular with both boys and girls across several age demographics, was originally published in 2003 by David Fickling Books at Random House and won the Nestlé Book Prize Gold Medal that year. Said and McKean will Executive Produce the film. Jason Lust, Senior Vice President of Feature Films at Henson will lead the development process. No studio is yet attached.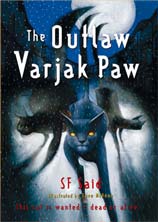 "With 'Varjak Paw,' SF Said and Dave McKean have a proven partnership of great storytelling using words and images so we are thrilled to join them in bringing this to the screen," said Lisa Henson. "And from working with Dave on 'MirrorMask,' I know he will bring his own unique style to this great adventure."
"Illustrating the 'Varjak Paw' books was a real pleasure," said Dave McKean. "And all the time I wanted to see more of the city; I wanted to see how these cats moved and interacted with each other. This is a great classic adventure story with broad visual possibilities. I think it is an ideal project for The Jim Henson Company, SF and I to create."
"This is the best thing that could have happened to 'Varjak Paw,'" commented SF Said. "Many of the book's inspirations were cinematic - from old martial arts movies to 'The Matrix' - and Varjak fans are always asking if there'll be a film. Now we have a chance to make an amazing movie for them, and for everyone who hasn't yet met the Kung Fu cat. I'm so thrilled to be working with Dave McKean, whose art is such an integral part of the books, and with The Jim Henson Company. It's a dream come true!"

MORE HENSON NEWS

• Jerry Nelson tribute at The Moving Image Museum October 27
• Jim Henson's Pajanimals debuts on NBC Kids Saturday July 7
• The New York Pops play The Muppets at Carnegie Hall April 14
• Henson announces "Sid the Science Kid: The Movie" in 3-D
• The Jim Henson Company Puppets to perform at the 2011 Grammys
• "Pioneers of Television" special to honor Jim Henson
• Classic "Henson's Place" special arrives on DVD August 3
• Frank Oz unveils tribute to the "Henson Pipes" at NBC Studios