Jim Henson's Puppet Improv March 8-12
Puppeteers Brian Henson, Bill Barretta, Julianne Buescher, Leslie Carrara-Rudolph, Drew Massey, Paul Rugg, Allan Trautman and Victor Yerrid will star at the Henson Improv
Courtesy of The Jim Henson Company
February 8, 2006
From the company that for fifty years has celebrated irreverence, creativity and performance comes Jim Henson's Puppet Improv: a demonstration of what happens when the perilous and provocative forms of traditional comedic improvisation are mixed with a bunch of puppets.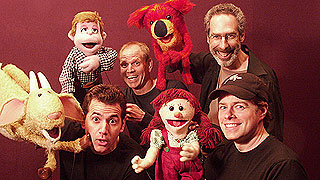 With a motley group of characters brought to life by the world renowned puppeteers of The Jim Henson Company, this is not your average night at the improv and it is definitely not for children. But all others are welcome to enjoy the uninhibited anarchy of live puppet performance as never seen before.
This special live performance at the upcoming U.S. Comedy Arts Festival - taking place March 8-12 in Aspen Colorado - is scheduled to feature Brian Henson, Bill Barretta, Julie Buescher, Leslie Carrara-Rudolph, Drew Massey, Paul Rugg, Allan Trautman and Victor Yerrid. The show is being advertised as not for children and is going to be a fantastic night of improv puppetry.
If you're interested in attending the U.S. Comedy Festival, ticket packages are on sale now through the USCAF box office at 1-866-350-3369 or online at www.hbocomedyfestival.com.

Brian Henson (Producer, Performer) is Co-Chief Executive Officer of The Jim Henson Company and an award-winning director, producer, writer and performer.

In recent years, Henson served as Executive Producer on the television projects It's A Very Merry Muppet Christmas Movie, Muppets' Wizard of Oz, Farscape: The Peacekeeper Wars (which he also directed) and Jim Henson's Jack and the Beanstalk: The Real Story (which he also co-wrote and directed).

Recently, he has been leading the Creature Shop's work with its revolutionary puppeteered animation system. He is currently in post production on an episode he directed for TNT's anthology series Nightmares & Dreamscapes: From the Stories of Stephen King, scheduled to premiere in the summer of 2006.

Bill Barretta is a writer, director, producer and puppeteer. He is best-known for his Muppet characters including Pepe the King Prawn, Johnny Fiama and Bobo the Bear as well as characters originally created by Jim Henson; The Swedish Chef, Rowlf the Dog and Dr. Teeth. Other television credits include Dinosaurs, The Muppets' Wizard of Oz and It's A Very Merry Muppet Christmas Movie. Bill is a graduate of The Neighborhood Playhouse in New York City.

Julianne Buescher, a whimsically versatile Henson performer, Second City alum and graduate of The Theatre School at DePaul, hosts E!'s Gone Bad and is a regular on Jimmy Kimmel Live (using her freakish ability to voice-match almost any actor/singer). Julianne's ear-biting In A Minute storytelling ran on KPFK LA and KPFA Berkeley. She created and starred in the award-winning film Resculpting Venus: A Comedy about Breast Cancer.

Leslie Carrara-Rudolph is a puppeteer, voice-over artist, teacher, writer and illustrator who has created and performed several shows and interactive workshops for all ages throughout the United States. Her puppeteering credits include Muppets Tonight, Johnny and the Sprites, Blue's Room and Sesame Street. Her stage credits include her original productions The Wahoo Wagon for Disney and Young at Heart as well as Lily Tomlin's The Search for Signs…

Drew Massey is an actor, puppeteer, and voice-over guy whose film credits include Muppets Wizard of Oz, The Producers, Doctor Dolittle, Cats & Dogs, Team America, and Men In Black I and II. Drew has also performed on TV in Greg the Bunny, Angel, Malcolm in the Middle, Muppets Tonight, Cousin Skeeter, Crank Yankers and in ads for Foster Farms, Sony and Levi's. He also draws really well and loves animals.

Paul Rugg, a founding member of the ACME Comedy Group in Hollywood and an award winning writer for TV animation, has lent his vocal talent to such shows as Animaniacs, Pinky and The Brain, Histeria, Buzz Lightyear Of Star Command, Dave The Barbarian, Toonsylvania, American Dragon, Catscratch. Paul also wrote, produced and starred in Freakazoid as well as the "Manny The Uncanny" segments for ABC's One Saturday Morning.

Allan Trautman began his performing career as an actor, noted for his portrayal of "Tarman" in the cult classics Return of the Living Dead: Parts One and Two. He has gone on to puppeteer in such features as Muppets From Space, Cats & Dogs, Babe and Dr. Dolittle (for which he was also performance coordinator). His television puppeteering credits include Greg the Bunny, Unhappily Ever After, Muppets Tonight and Dinosaurs.

Victor Yerrid is an actor and puppeteer who likes calling people "Hank" regardless of their name. His credits include The Producers: The Movie Musical, Team America, Just Like Heaven, Men In Black II, Angel, Crank Yankers, Robot Chicken, Farscape: The Peacekeeper Wars, Greg The Bunny, Sesame Street, Between The Lions and Bear in the Big Blue House. Victor enjoys most berry-based smoothies and adores his wife Janet.

MORE HENSON NEWS

• Jerry Nelson tribute at The Moving Image Museum October 27
• Jim Henson's Pajanimals debuts on NBC Kids Saturday July 7
• The New York Pops play The Muppets at Carnegie Hall April 14
• Henson announces "Sid the Science Kid: The Movie" in 3-D
• The Jim Henson Company Puppets to perform at the 2011 Grammys
• "Pioneers of Television" special to honor Jim Henson
• Classic "Henson's Place" special arrives on DVD August 3
• Frank Oz unveils tribute to the "Henson Pipes" at NBC Studios