Tartakovsky directing Dark Crystal sequel
Filming expected to begin this summer with a scheduled 2007 theatrical release
Courtesy of The Jim Henson Company
February 1, 2006
Award-winning animation director Genndy Tartakovsky, who created the hit series Star Wars: The Clone Wars, Samurai Jack and Dexter's Laboratory, will direct Power of the Dark Crystal, the much anticipated sequel to The Jim Henson Company's 1982 classic fantasy film. The announcement was made today by Lisa Henson, co-CEO of The Jim Henson Company and a producer on the film.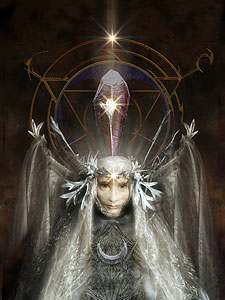 Queen Kira from the upcoming 2007 film, "The Power of the Dark Crystal".

Additionally, Tartakovsky's newest venture, Orphanage Animation Studios, has been brought on board as a producing partner to head up the CG animation elements that will be incorporated with the film's live-action animatronic characters. Legendary fantasy artist Brian Froud, designer of the original film, will return to design the new characters. Odyssey Entertainment is representing worldwide sales and distribution on the film.

Set hundreds of years after the events of the first movie when the world has once again fallen into darkness, Power of the Dark Crystal follows the adventures of a mysterious girl made of fire who, together with a Gelfling outcast, steals a shard of the legendary Crystal in an attempt to reignite the dying sun that exists at the center of the planet.

"As an auteur of such exciting and fantastical adventure projects, Genndy is the perfect director to bring to life Power of the Dark Crystal," said Lisa Henson. "I am sure that his visualization of Brian Froud's designs will thrill fans of the original film as well as audiences who are meeting these beloved characters for the first time."

Genndy Tartakovsky said, "The original Dark Crystal was one of the most inspirational and imaginative pictures of its time, so it's a real honor for me to be able to bring the world of The Dark Crystal to a whole new generation."

The sequel is only one of several projects exploring the world of The Dark Crystal, a fan favorite that has remained consistently strong with worldwide home video and DVD sales. Other projects include an animated television series, a manga series from Tokyo Pop, and myriad licensed products such as books, apparel and collectible sculptures.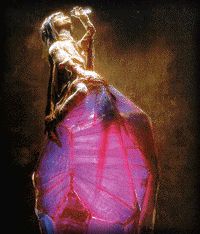 Power of the Dark Crystal is a production of The Jim Henson Company in association with Orphanage Animation Studios. With a screenplay by Annette Duffy and David Odell, the film will be produced by Lisa Henson and Orphanage Animation Studios Chairman Scott Stewart. Executive Producers will be Brian Henson with Ralph Kamp and Louise Goodsill of Odyssey Entertainment.
Ralph Kamp and Louise Goodsill commented, "The original film remains a classic and it's an honor to add Power of the Dark Crystal to our strong family line up. With Genndy and Orphanage Animation Studios joining The Jim Henson Company, the final creative elements are in place, and we know Berlin will be busy for us as we start the process of bringing this long-awaited sequel to its many fans around the world."

MORE HENSON NEWS

• Jerry Nelson tribute at The Moving Image Museum October 27
• Jim Henson's Pajanimals debuts on NBC Kids Saturday July 7
• The New York Pops play The Muppets at Carnegie Hall April 14
• Henson announces "Sid the Science Kid: The Movie" in 3-D
• The Jim Henson Company Puppets to perform at the 2011 Grammys
• "Pioneers of Television" special to honor Jim Henson
• Classic "Henson's Place" special arrives on DVD August 3
• Frank Oz unveils tribute to the "Henson Pipes" at NBC Studios