Emmet Otter Special Edition coming to DVD this October

The Special Edition DVD will include a lost song, bloopers and behind-the-scenes documentary with the cast and crew

By Phillip Chapman
July 6, 2005

Jim Henson and Muppet aficionados everywhere should mark their calendars for the release of the much loved Christmas classic, Emmet Otter's Jug-Band Christmas, from HIT Entertainment.

Originally released as an ABC special in 1980, the story of Ma Otter and her son has touched lives with it's message of caring and selflessness. This very special DVD version, set to release on October 4th, is sure to be a collector's item from the moment it hits shelves.

Loaded with never-before-seen footage, Emmet enthusiasts will enjoy exciting bonus features from the Henson archives including bloopers and a behind-the-scenes documentary.

Even the most die-hard fan will find something new with a lost song, never before seen or heard complete with an introduction from Paul Williams and in-depth interviews with Williams, Jerry Nelson, Cheryl Henson, Marilyn Sokol, Rollin Krewson, Caroly Wilcox and Michael K. Frith.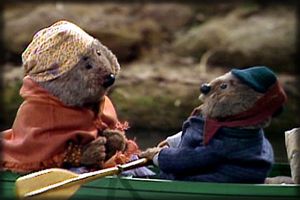 Unfortunately, due to Disney's ownership of Kermit the Frog, HIT will be releasing the special with the Kermit scenes at the beginning and end of the special edited out.
Emmet Otter's Jug-band Christmas has been released multiple times over the years on VHS and DVD but each version has had at least two scenes cut from the official release. The 1983 and 1996 releases did not include the extended version of "Ain't No Hole in the Washtub" and the flying rabbits scene. The 1998 and 2001 releases added the above cut material, but also had the following scenes cut.

MORE HENSON NEWS

• Jerry Nelson tribute at The Moving Image Museum October 27
• Jim Henson's Pajanimals debuts on NBC Kids Saturday July 7
• The New York Pops play The Muppets at Carnegie Hall April 14
• Henson announces "Sid the Science Kid: The Movie" in 3-D
• The Jim Henson Company Puppets to perform at the 2011 Grammys
• "Pioneers of Television" special to honor Jim Henson
• Classic "Henson's Place" special arrives on DVD August 3
• Frank Oz unveils tribute to the "Henson Pipes" at NBC Studios