New book of Jim Henson's Wisdom due in September

By Greg James
May 6, 2005

A timeless collection of wisdom on life, friendship, individuality, creativity, collaboration, and more will be hitting the bookshelves this September from the works of Jim Henson (and his friends). Hyperion Books is planning on releasing a new book this fall titled "It's Not Easy Being Green: And Other Things to Consider" is written and compiled from the works and friends of the late Jim Henson by Jim's daughter, Cheryl Henson.

There are few things that evoke such a universal feeling of warmth and humor as the work of Jim Henson. In his own words, as well as quotes from his best-known characters like Kermit the Frog, Rowlf, and Ernie, readers will get a glimpse of the philosophy and humor that was so essential to Jim's creations. You'll also get a behind-the-scenes glimpse of the collaborative spirit of this gentle artistic genius from the people Jim knew, loved, and inspired.

This uplifting collection of quotes, stories, anecdotes, songs, and insights gives new life to Jim's magical world. With chapters titled: Dynamite Determination; Listen to Your Heart; Together We Can Do It; It Starts When We're Kids; and A Part of Everything and Everyone, It's Not Easy Being Green will be entertaining, inspiring, touching, and laugh-out-loud funny. Readers young and old will cherish this collection.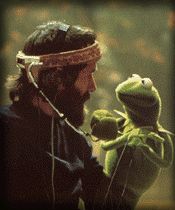 Culled from The Jim Henson Company archives, program transcripts, personal letters, and interviews, along with some of Jim's never-before-published writings, It's Not Easy Being Green is a testament to the legacy of a man who changed the way we see the world. The book will be releases on September 14, 2005 in hardback print, and also on audio CD.

This book's release will coincide with the release of the Jim Henson and The Muppets US postage stamps (also on September 14), and will be a lovely tribute to Jim just ten days before his Birthday (September 24). Jim would have been 69 in September. 2005 marks the 15th anniversary of his death on May 16.

MORE HENSON NEWS

• Jerry Nelson tribute at The Moving Image Museum October 27
• Jim Henson's Pajanimals debuts on NBC Kids Saturday July 7
• The New York Pops play The Muppets at Carnegie Hall April 14
• Henson announces "Sid the Science Kid: The Movie" in 3-D
• The Jim Henson Company Puppets to perform at the 2011 Grammys
• "Pioneers of Television" special to honor Jim Henson
• Classic "Henson's Place" special arrives on DVD August 3
• Frank Oz unveils tribute to the "Henson Pipes" at NBC Studios