Valentine wants to bring the Muppets back to prominence
Courtesy of the Wall Street Journal
December 25, 2002
An investment group led by a former Viacom Inc. executive has agreed in principle to buy a 49.9% stake in Jim Henson Co., the creator of Kermit the Frog and other Muppets characters, from the unit's ailing German owner, EM.TV & Merchandising AG.

"I really do believe they are on the verge of a significant renaissance."
- Dean Valentine
on the Muppets

Dean Valentine, the former president of Viacom's UPN network and a former top television executive at Walt Disney Co., cautioned that the agreement, announced on Tuesday, is a letter of intent, and a lot of work remains to strike a definitive agreement.
But he said he believes the Muppets remain a strong family brand that ranks behind only Disney and perhaps Viacom's Nickelodeon in global awareness. The question about the franchise has been: Are the Muppets primed for a resurgence, a la "Scooby-Doo," or more like an old-time cartoon character that is fading into oblivion.
Mr. Valentine thinks it's the former. "Everyone in the world knows who Jim Henson and Kermit are," Mr. Valentine said.
He is banking on the notion that the generation that grew up watching the Muppets is approaching its 30s, and is eager to introduce its own children to the characters. A recent Muppets movie on NBC performed strongly, he said, and an appearance by Kermit the Frog on CBS's "The Late Late Show with Craig Kilborn" drew a strong audience response.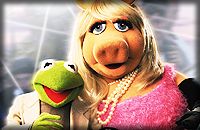 "The characters have really been, at worst, dormant," Mr. Valentine said. If they can once again be aggressively put in front of the TV audience with well- written material, he added, "I really do believe they are on the verge of a significant renaissance."
Mr. Valentine wouldn't comment on the value of the proposed transaction. Various suitors for Jim Henson Co. have valued the deal differently. Some say the company is valued at perhaps $80 million, but that doesn't include payments Jim Henson Co. receives under a deal in which Sesame Workshop, a nonprofit educational organization, bought the rights to "Sesame Street" characters, such as Big Bird. If the value of those payments is included in a transaction, Jim Henson Co.'s valuation could be more than $125 million.