9/11 echoes on Sesame Street
Courtesy of The Hollywood Reporter
January 4, 2002
How do you explain the horrors of September 11th to a 3-year-old?
The producers of Sesame Street will take on some of the difficult issues raised by the terrorist attacks on New York and Washington when the new series begins its 33rd season Feb. 4. The premiere episode deals with Elmo's fears after he witnesses a grease fire that breaks out at a lunch counter and the reassurance he receives during a visit with real-life firefighters at a station in Harlem, N.Y.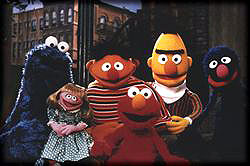 Other episodes set to air during the show's February-June season tackle such subjects as diversity and tolerance, the loss of a loved one -- or how Big Bird copes when his pet turtle wanders away -- and tactics for dealing with bullies.
The Sesame Street production team had to scramble late last year to craft a handful of episodes that responded, however obliquely, to the world-changing events of Sept. 11. The attacks hit just as writers of the New York-based PBS series were putting the finishing touches on the scripts for the show's 50-episode season order.
"It was a devastating time for all of us," said Rosemarie Truglio, vp of education and research for Sesame Street, produced by the Sesame Workshop.
"We felt we needed to do something in response to 9/11, but we knew we had to be very careful, because our viewers are so young, and parents are returning to educational programming as a safe haven for kids," said Truglio, an expert in child psychology.
There was little time for producers to develop story ideas with children in the show's target 2-4 age range. Executive producer Michael Loman and other writers worked closely with the show's various advisers, and they quickly determined that an episodes the celebrates the work of firefighters and incorporates fire safety tips would be a good starting point, Truglio said.
The episode that aims to send a message about respect for cultural diversity involves Big Bird meeting his pen pal Gulliver, who is aghast when he visits Sesame Street and finds that Big Bird is friendly with species other than birds. Big Bird eventually takes a stand when Gulliver refuses to play with Big Bird's best friend, Mr. Snuffleupagus.
The weighty subject matter on this season's batch of Sesame Street episodes comes as the show is introducing a host of new segments and undertaking the most significant format changes since it bowed in 1969.
The regular additions will include the play-along hide-and-seek game "Journey to Ernie," which aims to teach problem-solving skills; "Monster Clubhouse," in which kids are challenged to come up with the English equivalents for the "monster-ese" used by a quartet of Muppet monsters; and the "Spanish word of the day," which will be delivered by a new Muppet [sic] named Rosita.