Sesame Street is about to be re-paved
Courtesy of the New York Times
December 4, 2001
For the first time in more than 30 years, the pioneering show for toddlers will be reformatted - to appeal to today's media-savvy babies - when it begins its new season in February.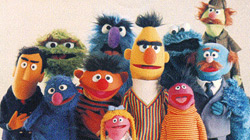 Instead of the trademark "Sesame Street" intertwining storyline, interrupted by lots of short segments and cartoons, the show will be refitted into a simpler, more predictable modular format, according to a PBS station magazine.
Other alterations include Muppet characters such Ernie and Big Bird starring in their own segments - like the very successful "Elmo's World" show-within-a-show introduced several years ago.
Next year, Cookie Monster will introduce the Letter of the Day while The Count will host The Number of the Day.
The show will not drop any of its Muppets characters, sources said, but will refocus instead on the "Sesame Street" core characters. So many new Muppets have been added over the last 30 years that it became unwieldy and hard for youngsters to follow, the show believes.
Also, the live-action scenes that took place on the "Sesame Street" set will be consolidated into one piece about 8 to 10 minutes long.
The changes were brought on partially because of tough competition from other educational kiddie shows like Nickelodeon's "Blues Clues."
But other, more important, factors included shifts in technology and kids' viewing habits. Preschoolers, who were thought to have only short attentions spans, turn out to enjoy watching story-driven movies, according to new research.
"Sesame Street" has seen its ratings slip in the past five years as Nickelodeon's ratings have grown exponentially. In the mid-'90s the show drew a 2.0 rating, but by the 2000-2001 season it had dropped by nearly one third, according to PBS research.