Elmo In Grouchland Soundtrack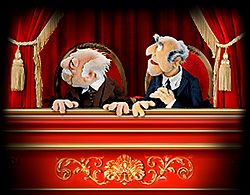 Gabe Liebowitz (9-29-99) - This past Wednesday I purchased the "Elmo In Grouchland" soundtrack and I was so excited about it, that I wanted to write a review.
First of all, this has to be one of the best Muppet soundtracks. It was just amazing. The music is fabulous! It's kind of like those Disney animated movie songs, but with that old familiar Muppety feel. And best of all, there are only two Elmo songs! Well... there's another one, but it's mostly Grizzy and Oscar. Four bonus tracks that don't appear in the movie were also added.
TRACK 1 - WELCOME TO GROUCHLAND
The Grouchland Ensemble
Lead Vocalist: Jerry Nelson
This was a great song, and why not make it better with one of the most talented and greatest Muppet vocalists, Jerry Nelson. It's a great song, especially to start off a great soundtrack. And NO ELMO!
TRACK 2 - TOGETHER FOREVER
Elmo and The Sesame Street Ensemble
Lead Vocalist: Kevin Clash
Okay, so Elmo hammed it up for the first minute or so, started the song with "Stop! Ha ha, hee hee, that tickles!" But when Elmo leaves the song, it really gets good. A lot of music starts playing (from slamming doors, banging trashcans, etc.) and then the gang starts singing a great harmony.
TRACK 3 - I SEE A KINGDOM
Vanessa Williams
This one was great, especially with the background singers, and the music. It really makes you feel like you're in a rain forest or something. You don't need to be a hippie to enjoy this song either.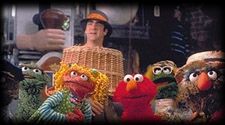 TRACK 4 - TAKE THE FIRST STEP
Stuckweed
Lead Vocalist: Steve Whitmire
This was just a great song, period. I hope this dude appears a lot on the movie.
TRACK 5 - PRECIOUS WINGS
Tatyana Ali
This song was okay, but I'm not really a big fan of soft rock. Tatyana Ali actually started on Sesame Street, if you remember when Stevie Wonder was on. I don't remember it too well, but I remember it enough to know that it was her as a kid.
TRACK 6 - ELMO TELLS HIS GROUCHLAND STORY
Elmo
Kevin Clash
This was 13 pure minutes of Elmo telling the whole story/plot of the movie, even though he spoiled the ending! I'm glad though that he didn't go into all of the details. I would have liked this track better if Oscar had told it. But since Elmo is the main character and experienced it...
TRACK 7 - THE GROUCH SONG
Elmo, Grizzy and Oscar the Grouch
Lead Vocalists: Kevin Clash, Stephanie D'Abruzzo and Caroll Spinney

This song is a new recording of the 1971 "Grouch Song" that Oscar first sang. It was pretty funny especially when Elmo said "Have a rotten day!" And Oscar replied, "Now THAT'S my boy!" I think Grizzy is okay, but I'm getting a bad feeling that she's taking Grundgetta's place in this film. Grizzy might be cool, but she'll never be able to take Grundgetta's place in my heart.
TRACK 8 - THERE'S A BIG HEAP OF TRASH AT THE END OF THE RAINBOW
The Stenchmen
Lead Vocalists: Steve Whitmire and David Rudman

This was a great, funny song. Steve did an awesome job, and so did David. He didn't do as good as Steve though. That's just because Steve's had more experience with the Muppets. I think that it's great that Steve is doing a character in the movie other than Kermit and Ernie. I really hope some of the characters from "Elmo In Grouchland" appear on Sesame Street during next season.
TRACK 9 - I LOVE TRASH
Steve Tyler
Originally from the "Elmopalooza", this is still a great recording of the 1970 classic, especially when you turn your CD Player on full blast.
Enough said, be sure to purchase this one. You won't regret it!

Travis Frost (10-3-99) - The soundtrack from the movie "The Adventures of Elmo in Grouchland", the first real collaboration between The Children's Television Workshop and The Jim Henson Company, does not particularly tickle my fancy although it is NOT by any means garbage either.

Most of the songs in this soundtrack are written by songwriters who have never written for Sesame Street, which any long time devoted Sesame Street fan such as myself will notice right from the get go. But hopefully the somewhat jungle sounding music will appeal to children of all ages including us true blue Sesame fans, especially after we see the movie. This sort of jungle-esque music does appeal and/or add to the story in a way that it does give the feeling of exploring unfamiliar turf and works nicely with the idea of Elmo being in the strange and never before seen Grouchland.
Muppeteer Jerry Nelson, who plays the Grouch Mayor as well as the Grouch Cop, lends his amazing and most loved, familiar voice to the first track, "Welcome To Grouchland", giving it a Sesame Street feel and making it one of the best songs on the soundtrack. Muppeteer Steve Whitmire also does a wonderful job as Stuckweed in, "Take The First Step" and as one of the Stenchmen in, "There's A Big Heap Of Trash At The End Of The Rainbow".
Vanessa William's "I See A Kingdom" matches the "Colors of the Wind" a little too much for me right down to the panpipe flute (and makes me think of garbage blowing in the wind). But then I am not exactly a big Vanessa Williams fan in the first place.

There are two familiar Sesame Street songs on the soundtrack however. The first, and my personal favorite song on this soundtrack is, "The Grouch Song", sung by Oscar The Grouch (Caroll Spinney), Elmo (Kevin Clash), and Grouch Girl Grizzy (Stephanie D'Abruzzo). This may not be a brand new song for the movie, but it is an actual Sesame Street song written by the very talented and fantastic Jeff Moss, who sadly passed away last year. The last song on the soundtrack is yet another hit favorite Jeff Moss song, "I Love Trash", and is the same remix performed by Steven Tyler from the "Elmopalooza" album.
"We felt it had to be more than the 'Sesame Street' audience was used to seeing on television", says Brian Henson, president of The Jim Henson Company about the movie. And it is this same idea that carries over into the soundtrack too. A little familiar, but a little more than the Sesame Street you see on television.
Tracks:
1. Welcome To Grouchland
2. Together Forever
3. I See A Kingdom
4. Take The First Step
5. Precious Wings
6. Elmo Tells His Grouchland Story (spoken word)
7. The Grouch Song
8. There's A Big Heap Of Trash At The End Of The Rainbow
9. I Love Trash