Counting the reasons Sesame Street Loves the NBA
By Phillip Chapman
December 13, 2003
On Friday night if you were watching ESPN, you not only saw the Dallas Mavericks whip the Los Angeles Lakes and the Seattle Supersonics school the Detriot Pistons, but some friends from Sesame Street debuted with the NBA as well.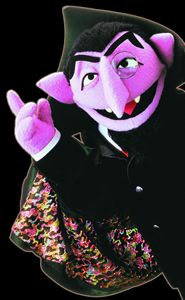 A new commercial starring the Sesame Street Muppets premiered during prime time. The Count, Big Bird, Elmo, Oscar, Super Grover and Zoe all shared why they love hoops and the NBA.
From 1992-1999 the NBA had the successful "I Love This Game" campaign to promote the league. The slogan has returned this year with a new twist, "1,000 Reasons Why I Love This Game". More than 50 different "1,000 Reasons" spots featuring popular celebrities from all genres of entertainment will air this season.
This isn't the first time the Muppets have promoted the NBA. In 1993, Kermit was featured in an 'I Love This Game" commercial. Basketball highlights were shown as he sang The Muppet Show classic "Happy Feet".
The Muppets will also be featured in NBA merchandise this season. Sababa Toys is releasing Muppet plush in NBA All-Star uniforms. They will be available at select sports stores across the country. NBA All Star Piggy and NBA All-Star Animal are already on the street at select Lady Foot Locker stores.

Sesame Street "1000 Reasons I Love This Game"
"Boogie Shoes" by KC & The Sunshine Band plays in the background throughout entire commerical.
(Holding basketball in front of 123 Sesame Street window)
COUNT: There are one thousand reasons to love this game. What are yours?
(Standing in Sesame Street playground holding basketball in front of a basketball hoop)
BIG BIRD: Two words... Larry Bird!
(In front of Hooper's Store wearing a #34 jersey)
ELMO: Elmo loves this game because of the cool shoes, baby! Ha, ha, ha…
(In his can as usual)
OSCAR: Because of the trash talk.
(Still in front of 123 Sesame Street window)
COUNT: I love this game because you can count by two. (Holds up two fingers)
NBA Clip – Philadelphia 76ers' Allen Iverson shoots a layup
(In Super Grover costume)
GROVER: I love this game because the players fly though the air.
NBA Clip – Minnesota Timberwolves' Kevin Garnett dunks
(Voice over)
GROVER: Up, up, and away!
(In front of 123 building)
ZOE: Ta da!
Clip – Dallas Mavericks' Steve Nash and Dirk Nowitzki in celebratory hug
(In front of 123 door and 123 Sesame Street lamp post and sign)
EVERYONE: We love this game! (cheers and laughter)