New York Henson Townhouse for sale
117 East 69th has been the Muppets home since 1977
Courtesy of The Wall Street Journal On-line
December 5, 2003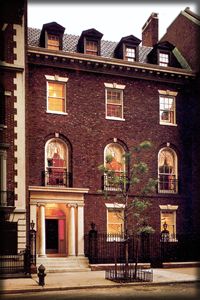 Thirteen years after founder Jim Henson died unexpectedly at age 53, the TV and motion picture company he founded - famous for the Kermit the Frog and Miss Piggy puppets - is selling the Manhattan building that houses its offices.
Jim Henson Co. is asking $13.9 million for the 40-foot wide, five-story 1929 neo-Georgian townhouse. It was built for a banker, and brokers say it could easily be reconverted into a residence.
The company has decided to move most operations to California, counsel Albert Gottesman said. The Jim Henson Family Trusts acquired the red-brick townhouse with its pillared entrance on East 69th Street for $600,000 in 1977 from the New York State Pharmaceutical Association, records indicate.
Gottesman said Henson was taken with the light in the 12,000-square-foot house - important for a creative company - as well as the 1920s feel, which he wanted to keep. Local brokers say the price is reasonable for the 40-foot-wide building. Penthouse founder Bob Guccione's nearby mansion of the same width has an asking price of $27 million.

Editor's Note: Last year Muppet fan Quinn Rollins took a tour of the Muppet Townhouse. With photos and descriptions, follow him through the historic building.