Henson talking to Disney and Viacom for potential partnership deals
Courtesy of the Hollywood Reporter
November 19, 2003
Now that things have settled down a bit at Kermit the Frog's lily pad, the Jim Henson Co. is actively talking to studio suitors about partnership deals that could encompass everything from film and TV production to home video distribution and merchandising rights to various Henson properties.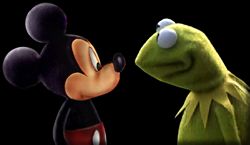 Sources said Henson is in discussions with the Walt Disney Co. and Viacom, both of which have a range of outlets for children's programming and the kind of global distribution muscle needed to spread the Muppet brand name.
The Henson company had been in limbo during much of the past two years until the five children of late founder Jim Henson joined forces in May to buy the company back from its troubled German parent company, EM.TV & Merchandising, for $89 million.
Disney was believed to have come close to cutting a deal with EM.TV to buy the company outright prior to the Henson clan stepping back into the picture earlier this year.
Reps for Henson, Viacom and Disney declined comment.