Muppet merchandise invades Barnes & Noble this November
Steve Whitmire and Kermit will be making in-store appearances in New York City Friday November 14th
October 24, 2003
It's time to play the music! It's time to light the...bookstore?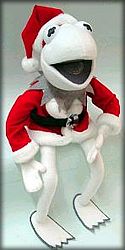 That's right. Move over William Shakespeare! Out of the way, Mr. Dickens! This holiday season, Barnes & Noble is making room in their aisles for the Muppets.
Starting the first week of November and continuing through the holiday season, Barnes & Noble stores will be featuring an endcap display of Muppet merchandise nationwide. The endcap, which will be set up in all Barnes & Noble stores across the country, will feature Muppet product from several different companies, including Sababa Toys, USAopoly and Palisades Toys.
Included in the display will be items such as: Muppet Monopoly and the new Muppet Puzzle from USAopoly; the Muppet Magic 8 Ball, Muppet Dominoes, Muppet Uno and Muppet Chess from Sababa Toys; the Muppet Corgi cars; Jim Hensons's A Very Muppet Christmas book, and the Muppet Christmas Carol mini PVC sets by Palisades. The display will also feature the Electric Mayhem plush pack and the brand new, all white Santa Kermit plush doll by Sababa Toys.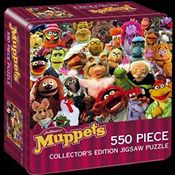 Barnes & Noble will also be doing in store events with the Muppets to promote the display. So if you're planning on being in the New York City area on Friday November 14th, be sure to stop by Barnes & Noble's Lincoln Triangle location at 6 pm to join the world's most famous amphibian, Kermit the Frog for a live in-person sing-along. Then when you've sung your heart out, hop on over to Barnes & Noble in Union Square at 8 pm for a Q&A session with Kermit the Frog. These are both free events that are open to the public, so be sure to come by and help "get things started" with Barnes & Noble and the Muppets this holiday season!