"The Unseen Work of Jim Henson" seminar October 15th in New York
By Melissa Yowhan
October 1, 2003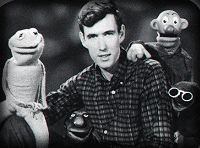 The Museum of Television and Radio in New York City and the Jim Henson Legacy will be hosting a very special event on Wednesday October 15th, "Muppet Rarities: The Unseen Work of Jim Henson".
The evening seminar will take place on October 15th from 6:00-7:30. The discussion panel will focus on the unaired pilot "Land of Tinkerdee" (filmed several years after "Tales of the Tinkerdee"), the summer replacement series "Our Place" hosted by Rowlf the Dog, early commercials, outtakes and promos.
If you missed MuppetFest in 2001, here is your chance for a mini MuppetFest with Henson legends and fans. On hand will be Muppet writer and historian Craig Shemin, cofounder of The Muppets Jane Henson, and veteran Muppeteer Jerry Nelson. The panel will discuss Jim Henson's work and take questions from the audience.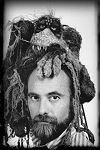 Price of admission to the seminar is $15 per person, $12 if you are a member of the museum. The event will likely sell out, however, the museum will make the seminar available in a separate room via a television feed for anyone who is interested in attending. Admission for the closed-circuit screening is $5.
Tickets may be purchased by calling (212) 621-6600 from 12:00 to 5:00 p.m. Tuesday to Friday. Or buy them in person at the museum lobby, Monday through Sunday from 12:00 to 6:00 p.m. and until 8:00 p.m. on Thursday.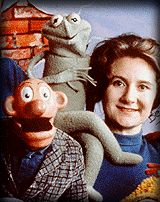 I highly recommend arriving as early as possible since the Museum of Television and Radio's seminar theaters sit only about a hundred people. The museum is located at 25 W. 52nd Street and the best way to get there is to take the F train from New York's Penn Station.
Please be advised the museum is very strict about picture taking and recording devices of any kind. I've personally seen people get thrown out of the museum for using such devices.
Most importantly, we hope everyone has a good time. We can't wait to see you there!
Talk about this very special event with fans in our discussion forum.