Henson statue will be unveiled Sept. 24 at commemorative ceremony
University of Maryland honors the legend with a "Designs and Doodles" exhibit and a film festival
Courtesy of the Baltimore Sun
September 23, 2003
If Kermit the Frog thinks "It's Not Easy Being Green," how will he like being bronze? The beloved Muppet sits beside his creator, Jim Henson, in a larger-than-life-size bronze statue, to be dedicated Sept. 24 at Henson's alma mater, the University of Maryland, College Park.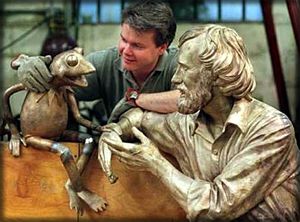 Jay Hall Carpenter created the statue of Kermit and Muppets creator Jim Henson, who graduated from the University of Maryland in 1960. The dedication of the statue and garden is Sept. 24.

The design, by sculptor Jay Hall Carpenter of Gaithersburg, depicts Henson and Kermit in lighthearted conversation, Kermit's left hand resting thoughtfully on Henson's wrist.

"I thought of them as creative collaborators," Carpenter said of the pair.

The statue, which weighs about 450 pounds, will be placed in the new Jim Henson Memorial Garden outside the university's Adele Stamp Student Union. The statue and garden will be dedicated on what would have been Henson's 67th birthday. He died in 1990.

Carpenter's sculpture was built in several stages. The full-size clay model he completed in the spring was cast in bronze at the New Arts Foundry on Clipper Heights Avenue over the summer. Henson and Kermit were cast in pieces that were welded together last week. The pair will be attached to a red granite bench, manufactured in Texas, on Sept. 22 in preparation for the dedication ceremony.

Twenty percent of the funds for the statue and the garden (designed by landscape architect Philip Cho) were donated by the University of Maryland classes of 1994, 1998 and 1999. The university and the student union provided the remaining funds for the $217,000 tribute.

Carpenter, 44, began working as a sculptor's assistant in his teens, creating clay models for many pieces at the Washington National Cathedral. He studied at the Pratt Institute in Brooklyn, N.Y., and received a bachelor's degree from Catholic University of America. His works include sculptures of Frederick Douglass and William Shakespeare and the weaponry for Frederick Hart's monument at the Vietnam Veterans Memorial. Other works can be seen at the State Department and Rock Creek Cemetery in Washington and the U.S. Military Academy at West Point, among other locations.

"[Jane Henson] could tell me what he looked liked when he wasn't posing for the camera," Carpenter said.

He was one of several sculptors competing for the Henson project. A university committee chose Carpenter to do the statue in 2000 after he presented a miniature clay model of his design.
His research for the project included a visit to The Jim Henson Legacy in New York, where exhibits of Henson's various artistic creations from the Muppets to films are on display.
Though he said the Henson sculpture has been "a lot more fun" than some of his other work, it also presented the usual challenge of sculpting the human portrait. Henson's likeness was re-created from publicity photos and the recollections of his widow, Jane Henson.
"She could tell me what he looked liked when he wasn't posing for the camera," Carpenter said.
Selecting clothing for the portrait was also difficult because many of the photos showed Henson in styles from the 1960s and '70s. Carpenter settled on an ensemble found in a photograph of Henson teaching a puppetry seminar: an Oxford shirt, pleated pants and athletic shoes.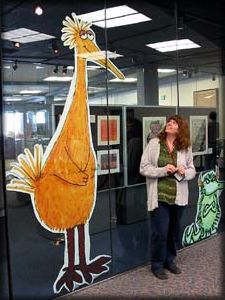 Henson started working with puppets as a teen-ager and studied theater arts at UM, graduating in 1960. During that time, he met his wife, Jane Nebel, and showcased his puppets on a Washington television program, Sam and Friends, that received an Emmy Award for best local entertainment show in 1958. Henson went on to create characters for Sesame Street, Fraggle Rock, various TV specials and eventually made full-length feature films such as Labyrinth and The Dark Crystal.
The university plans to hold other events to honor Henson this month, including a Muppet movie festival at Hoff Theater and renaming the school's main thoroughfare Sesame Street for the day of the sculpture dedication. Selections of Henson's art will be at the "Designs and Doodles" exhibit at Hornbake Library, today through Dec. 19. The American Film Institute's Silver Theater and Cultural Center in Silver Spring will also screen six of Henson's films between Sept. 20 and Oct. 25.
NBC's Willard Scott will serve as master of ceremonies for the Sept. 24 dedication, which begins at 11 a.m.