Henson statue to be unveiled in September
University of Maryland plans a weeklong series of activities, including a Muppet film festival
Courtesy of The Diamondback
July 10, 2003
A statue of beloved alumnus Jim Henson and his popular creation, Kermit the Frog, will be dedicated on the campus in September, honoring one of the university's most creative and successful graduates.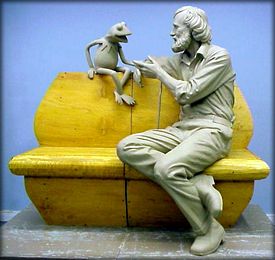 Puppeteer Jim Henson chats with his most famous creation, Kermit the Frog, in this model of the sculpture being made by Jay Hall Carpenter on commission to the University of Maryland.

The Jim Henson Memorial Garden, which will be located in front of Stamp Student Union, will feature a life-size bronze and granite statue of Henson and Kermit sitting on a bench conversing face to face.

The dedication will take place on Henson's birthday, September 24.

The Class of 1998 decided to honor Henson through a statue, while the Class of 1999 donated the landscaping for the sculpture site.

Jay Hall Carpenter, a renowned sculptor in the Washington area, was chosen to create the public work by representatives of the Class of 1998 and members of the Henson family through a national competition.

Since 1976, Carpenter has designed more than 500 permanent stone sculptures for the Washington National Cathedral. His clients also include the New England Medical Center, the Smithsonian Tropical Research Center and the U.S. Department of State.

Plans are still being made for the dedication ceremony, said Senior Media Relations Associate David Ottalini. The university plans to hold a weeklong series of activities, including a Muppet film festival at Hoff Theater, he said.

In addition, a videographer selected by the Henson family is producing a documentary about the making of the sculpture, said Ottalini.

Henson began his career at the university as a freshman, showcasing his first Muppets on WRC-TV (Channel 4) in Sam and Friends. He graduated with a bachelor's degree in home economics in 1960 and went on to capture the world with his magical creations.

Among his iconic projects were public television's educational Sesame Street and variety program The Muppet Show. Time magazine named him one of 100 people who had the greatest impact during the 20th century, and he was inducted into the university's Alumni Association Hall of Fame in 1995.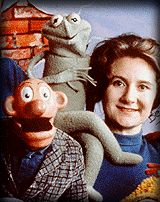 In 1990, he passed away unexpectedly from a bacterial infection at the age of 53.
In a statement, Henson's wife, Jane, who also attended the university, thanked all of those involved with the creation of the statue.
"This is a wonderful honor for Jim," she said. "It was at the University of Maryland that Jim explored his interest in the fine and performing arts that would later bring him worldwide recognition and success. Jim never lost sight of that and was forever grateful to his fellow classmates and instructors who encouraged him in his work."