Pam Arciero takes over the O'Neill Puppetry Conference
The conference is June 9-17 at the Eugene O'Neill Theater Center in Waterford, Connecticut
Courtesy of The Day
June 10, 2003
Pam Arciero kind of stumbled, literally, into puppetry after breaking her leg while studying acting at the University of Hawaii. Someone suggested she try something that didn't require much agility.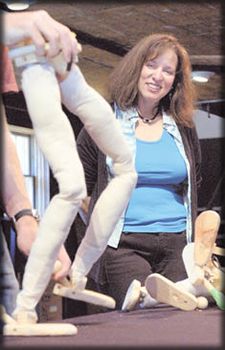 She liked it and eventually went on to earn a graduate degree in puppetry from the University of Connecticut, which offers some of the most extensive puppetry course work in the country. Her career has remained focused on puppets, including many film and stage appearances and years of television work. She is a principal puppeteer with "Sesame Street" and might be familiar to millions of American children and their parents as the puppet Grundgetta Grunch.
This year, Arciero has taken charge of the annual Puppetry Conference at the Eugene O'Neill Theater Center, where she previously has been in charge of programs for emerging artists. Her new role as conference director, she says, gives her a chance to do more to advance her adopted art, in a deliberate way.
"I get a lot of energy, a lot of creative juice out of doing this," says Arciero, who works in New York, lives in Wilton and has a house in Old Saybrook.
"It's very much a sharing process, and I guess it's kind of a legacy for me. I've gotten so much from puppetry in my life.
"I feel that the art form will be better because we are all here working on it."

"So many people have grown up with 'Sesame Street' that new adult venues are opening up all the time ... We can do comedy and some of the most serious drama you've ever seen. It's a magical process that I adore."
- Pam Arciero

For Arciero's first season as director, the 13th season of the conference, guest artists will bring a special focus on developing comedy in puppetry and manipulating marionettes. There also will be be video work photographing puppets, development of new works by emerging artists, and talks by renowned puppeteers.
It will conclude with performances Friday and Saturday, open to the public, which will showcase some of the projects conference participants have been working on the previous eight days.
The shows will be cabaret style, with a variety of performances. Some of the emerging artist participants have submitted outlines for what they plan to work on — one performance is on breast cancer, for instance — but they may change substantially after a week of development.
Actors from the Flock Theatre of New London volunteer for the week to work on the specific projects developed by the emerging artists.
"There are a lot of variables to what we do, and a lot of improvisation," Arciero says. "Often what comes out at the end is very different than what you start out with."
This year's conference will bring together about 30 participants. Some are experienced puppeteers looking for a career refresher while others are relatively new to the form. They pay $900 in tuition for nine intense days of workshops, lectures and hands-on performance work.
Like at the O'Neill's traditional playwrights' conference, everyone lives on the Waterford campus. Days start at 8 a.m. and end at 11 p.m. There is no television and few outside distractions.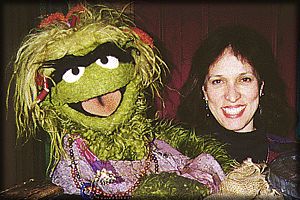 "What we do here is grow people and grow ideas with a performance at the end of the week," says Arciero. "There's nowhere else where you can go for a week and work on so many things — manipulation, music, acting. ... We try to do it all in a week, because most of these are professional puppeteers who need to be out there earning a living."
This year's guest artists include Paul Zaloom, who starred in his own ABC television show, "Beakman's World." Zaloom, who has been awarded four National Endowment for the Arts grants as well as a Guggenheim Fellowship, will work with participants on comic topics.
Another guest is Phillip Huber, a marionette artist known for his work on the movie "Being John Malkovich," as well as many prominent stage performances.
Puppetry Conference Shows
June 9-17, 2003
WHERE: Eugene O'Neill Theater Center, Great Neck Road, Waterford
WHEN: 7:30 p.m. Friday and Saturday
TICKETS: $12, $10 for O'Neill members
CALL: 860-443-1238
DETAILS: Material in the three-hour shows may be for mature audiences.

The conference lasts only nine days, but planning for the next year begins almost as soon as the current one ends. There are post-conference critiques, Arciero says, aimed at building a stronger program. Other work during the year, in addition to developing programs and recruiting guests and speakers, includes fund-raising, since the tuition doesn't cover all the costs.
Arciero says she can't imagine herself in any other career than puppetry and is grateful for the flexibility that frees her from the conventional limits of age and gender imposed on most actors. On "Sesame Street" alone, in addition to principal characters, she also plays dogs and frogs, cats and bears.
"I'm able to reach a broad spectrum of society. Education is important to me, and with this art form we are increasingly able to reach adults. ... So many people have grown up with 'Sesame Street' that new adult venues are opening up all the time," she says. "We can do comedy and some of the most serious drama you've ever seen. It's a magical process that I adore."