Henson showcases new products at 2003 Licensing Show
Something for everyone, the market for Muppet collectors continues to grow
Courtesy of Henson.com
June 7, 2003
From classic games to kitsch collectibles, a wide array of new Muppet products for 2003-2004 are being introduced by The Jim Henson Company at this year's Licensing Show (Booth #4109).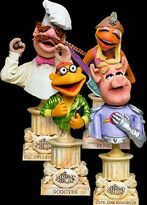 Product offerings from new and existing Muppet licensees including Briefly Stated, JWE/Evendale, Palisades Toys, Rick's Tins, Sababa Toys, Sideshow Toys and USAopoloy, featuring everyone's favorite Muppet characters, will be available at a variety of different mass market, mid-tier and specialty retailers.
Coming off the heels of last year's successful The Muppet Show 25th Anniversary campaign, the Muppet licensing program is as active as ever. With a 99% awareness of the Muppets and Jim Henson worldwide, there are currently over 30 licensees and publishers on board in the United States alone, and another 60 internationally with product available now or upcoming in 2004.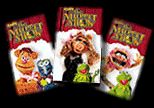 Products such as The Best of The Muppet Show DVD and video collection steadily remain top sellers. The collection is available through Time-Life's direct response campaign, and at retail through Columbia TriStar Home Entertainment. More releases will be coming to retail later this year. Current and up-and-coming Muppet product will reflect two key licensing targets: fashion forward teens and young adults ages 12-29, and parents ages 30-up with "Classic Muppets" products.
"This year's diverse and delightful product line-up has something for everyone--tweens, teens, collectors, and overall Muppet fans alike," commented Betts FitzGerald, Senior Vice President, Licensing, for The Jim Henson Company. "The Muppets' timeless appeal and popularity continues to earn the brand a top spot on the list of "must-have" licenses."
New Muppet Products Featured at Booth #4109 include: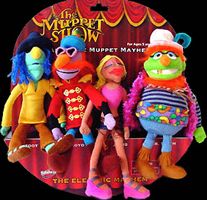 Sababa Toys—Innovative plush, retro games and toys, and a major end cap promotion are among the many offerings Sababa Toys has planned for their 2003 Muppet product line.
The Sababa plush line targets teenagers and trendsetters by giving a contemporary look to classic Muppet characters. Electric Mayhem plush will be available for the first time ever in plush. Plush parody sets of classic vignettes from The Muppet Show including "Veterinarian's Hospital" will also be produced. Sababa plush will be available in stores such as Hot Topic and Puzzle Zoo beginning later this summer, and on-line at www.wickedcoolstuff.com.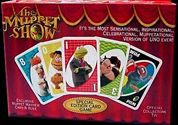 Sababa will also bring Muppet flair to favorite family toys and games by producing an all-knowing Muppets Magic Eight-ball and a Muppets Uno game.
The year will culminate with a major holiday promotion with Barnes & Noble. All Barnes & Noble stores will have a Muppet end cap with Sababa product. The promotion will also include sales of the Muppet Monopoly game by USAopoly, and many favorite Muppet/Jim Henson biographical book titles.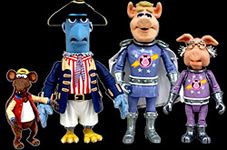 Palisades Toys—The Muppet mania surrounding Palisades Toys' Muppet action figures and playsets continues, as development of a seventh series is currently underway and the line's retail availability continues to expand. Available now, 500 Target stores are selling an exclusive Kermit the Frog Koozbane-reporter figure, as well as the Mega Animal collectible. Mega Beaker and Series 4 action figures including Sam the Eagle, Rizzo the Rat, Link Hogthrob and Dr. Strangepork will be available this summer, as will The Swedish Chef kitchen playset. In the upcoming Series 5 line, action figures from the Muppet movies will feature both classic Muppet characters in theatrical-based settings, and new Muppet stars, such as Pepe the King Prawn.
Sideshow Toys— Sideshow Toys will continue their popular line of collectible Muppet busts. Available now are Kermit the Frog, The Great Gonzo, Scooter, Janice, the Swedish Chef and more. Upcoming Series 4 will include Fozzie Bear, Lew Zealand, Beauregard, and Zoot.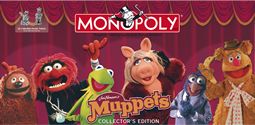 USAopoly—The classic board game will be taken over by the zany Muppets as MONOPOLY: The Muppets Collector's Edition is made available at retail in July.
Rix's Tins—Muppet fun continues when, Rix's Tins unveils a whole line of Muppet lunchtins, coasters, TV trays, playing cards and accessories. For the fourth quarter, Rick's Tins will also release a custom-designed Muppet dartboard.
JWE/Evendale and Briefly Stated—The Muppets are getting cozy with two new intimate apparel licensees, targeting tween, teen and adult Muppet aficionados. Briefly Stated is developing a complete line of lingerie and Evendale is producing a line of Muppet boxer shorts.