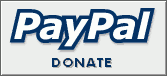 Season 2 of Play With Me Sesame begins Saturday June 7th

New Friends Cookie Monster, Zoe, Slimey The Worm, and Ernestine to Join Noggin''s Daily Interactive Playdate

Courtesy of PRNewswire
May 23, 2003

Preschoolers can pencil in a new set of playdates with more of their favorite Muppets! Noggin, Nickelodeon's commercial-free, educational network for kids 2 to 5, will premiere a brand-new season of the half-hour interactive series, Play With Me Sesame. 17 new episodes of the hit preschool series will begin airing on Saturday, June 7 at 8:00 a.m. (ET/PT) and will air regularly every day at 8:00 a.m. (ET/PT) on Noggin.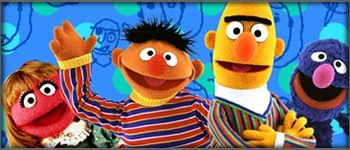 The second season of Play With Me Sesame will feature special Muppet guest stars including, Cookie Monster, Zoe, Slimey the Worm and Ernie's cousin, Ernestine, in addition to the show's regular Sesame Street characters -- Ernie, Bert, Grover and Prairie Dawn. The new episodes will feature new original songs including, "I Love My Sippy Cup," "The Groverelli," and "Wubba Lullaby," among others.
In the premiere episode of Play With Me Sesame, special guest Cookie Monster joins the fun with a game of 'Ernie Says,' helps Prairie Dawn highlight kids art work in the "Play with Me Art Show" (but he only sees cookies in every picture!), and teaches his signature song "C is for Cookie" with Grover. In addition, brand-new kid segments will feature real preschoolers demonstrating activities and a brand new rubber duckie computer game called 'Ducks in a Row.'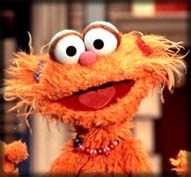 On June 7, Noggin's website, noggin.com, will premiere enhanced versions of Play With Me Sesame games hosted by Ernie, Bert, Grover and Prairie Dawn which support preschoolers' creativity and individual expression. The online activities tie-in closely with the television segments and include 'What's Different?' 'Perfect Pair,' 'Pigeon Patterns,' 'Oatmeal Art,' where kids can submit their work for TV and online art galleries, and all-new rubber duckie games.
Play With Me Sesame mixes classic Sesame Street footage with newly created games and activities where the Muppets invite children to join in. Play With Me Sesame extends Sesame Street's time-tested educational mission through opportunities for active learning. The participatory design encourages preschoolers to express themselves creatively, while the games and activities support such cornerstone cognitive concepts as 'same' and 'different.' As an interactive experience, the program helps children cultivate skills and attitudes needed to succeed in the social environment of school.
Noggin / The N, owned by Nickelodeon, currently reaches 34 million households via cable, digital cable and satellite. With two distinct program blocks, NOGGIN for preschoolers and The N for teens -- the network helps kids to figure out their lives with educational media on-air and online.