Marty Robinson revamps Audrey for Broadway revival of Little Shop of Horrors
Courtesy of the Sun-Sentinal
May 18, 2003
At first glance, Audrey seems a little peaked -- down at the mouth, so to speak. She's sitting in her flowerpot overlooking New York's fashionable Upper East Side, her greens faded and her oranges washed out. But don't think for a moment that she isn't happy she's left skid row behind.

"With preschool audiences for Sesame Street, I don't get to be too dark, don't get to take over the world and exercise my megalomania. With this project I get to play it all out like it was real."
- Marty Robinson

She's aged some while raising the kids, is all. She's perched here, on a desk overflowing with gruesome drawings, overseeing the creation of her newest progeny at Jim Henson's New York workshop. Martin P. Robinson, known as Marty to all who've known him longer than 30 seconds, reaches over and taps the puppet gently.

"This is the original Audrey," he says. "She's still got some color, some character. We're using some of the things that worked in the original production of Little Shop of Horrors and she's here to inspire us."

Audrey is her finger-lickin' size from the first act of what may be the most popular off-Broadway musical of all time. In the next room is her slightly-bigger sister, able to swallow whole fingers if given the chance. Robinson and a half-dozen or so Henson puppet designers scurry between the two vintage foam-rubber creatures, attending to the new, giant-sized monster that will be the centerpiece of the show's 21st-anniversary revival.

She made her official debut on Friday at the Miracle Theatre in Coral Gables. After that, she plans to devour Broadway. The cast goes back into rehearsals in late June, with previews starting July 22 at the Virginia Theatre for an Aug. 14 opening.

"I'm living my dream," Robinson says. "I can't believe I get to come in here and have this much fun."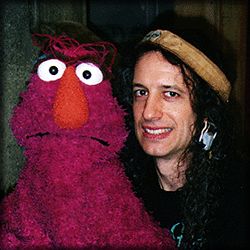 The four-time Emmy Award-winning puppeteer of Sesame Street (as Snuffleupagus, Telly Monster, Slimey the worm and Yip-Yip) is now standing near a 6-foot-high white styrofoam pod, the roof of what will eventually be Audrey's mouth in the musical's grand climax. Unlike the legendary but low-budget 1982 production that merely ate actors, this descendant will threaten the audience itself.
"I want to do much better than the chandelier in The Phantom of the Opera. I wanted that to scare me, but it didn't.
"I want to get Audrey over the fourth row of the theater. I want wet seats in the house. We're looking at ways of frightening the audience, bringing the plant into their laps while debris falls and big bass rumblers go off."
Humble beginnings
Audrey started out in monochrome as the star of low-budget sci-fi wizard Roger Corman's 1960 movie about a man-eating plant from outer space. Robinson dressed her up in vivid colors, like a bloated mutant orchid, for Howard Ashman and Alan Menken's 1982 off-Broadway musical adaptation.
Robinson, who trained as both an actor and sculptor, got hooked into special effects as a kid in Wisconsin by legendary movie makeup artist Dick Smith's do-it-yourself Halloween monster manual, which he ordered through Forrest J. Ackerman's Famous Monsters of Filmland magazine.
Charles Griffith's screenplay for the '60 film was a pitch-black, end-of-the-world comedy. The late Ashman, Little Shop's original author, lyricist and director, translated that sentiment to the stage.
"I was brought in after a lot of other puppet builders," Robinson says. "I was actually recommended by Julie Taymor [The Lion King], with whom I'd previously worked on another project.
"She turned it down. A lot of people did when Howard told them what the parameters were. He wanted a plant that starts out tiny, grows big, eats the entire cast, sings and dances and talks jive and takes over the world. A lot of people said, `Well, what are you, nuts?'
"Me -- I said, `Yeah, sure, we can do that.' Howard and I both saw the movie when we were kids and ran around our neighborhoods yelling, `Feed me.' So we hit it off."
Robinson designed three puppet plants for the off-Broadway musical, the two potted bulbs and a third, big enough to crawl inside.
Robinson spent much of the show's original run inside the biggest, officially known as Audrey II, winning New York's Drama Desk and the Los Angeles Drama Critics awards for his efforts.
Made mostly of foam and fabric, she weighed 85 pounds and served as the model for all other Audrey II puppets during the next 20 years. Some later versions were converted to fiberglass, gaining another 40 pounds in the process.
Rising up in the final scene, that Audrey stood an imposing 8 feet high but still had some trouble swallowing the show's hero and heroine. Robinson says every revival around the country has worked out slightly different methods to make the final meal look more realistically horrific. But that's no longer a problem.
Gigantic proportions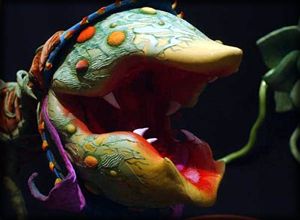 The new Audrey II that took shape in the Henson workshop earlier this spring towers some 23 feet high, manhandled by four hidden operators (with Robinson himself still in the middle). At the finale, she's a bloated, room-sized Venus mantrap.
Robinson flips through a flower catalog.
"When Audrey finally reveals herself and blooms, it's based on some of these orchids. I can't believe the excessive nature of nature," he says, chuckling to himself. "It's sometimes ghastly, but beautiful, all at once.
"With preschool audiences for Sesame Street, I don't get to be too dark, don't get to take over the world and exercise my megalomania. With this project I get to play it all out like it was real."
Robinson goes on to describe his creature's technology, using terms like foam and universal joints, booms, counterbalancing and a new live-wire lighting system to make the creature's veins glow and pulsate. But he's most interested in a virtually unlimited kill zone. Audrey must be able to snack on anyone, anywhere, onstage and in the audience.
If that portrait of evil doesn't square with your memory of the 1986 movie version of the musical, it's because that treatment chickened out of the story's cautionary message at the last possible moment, and substituted a happy ending.
"This is a Faustian tale," Robinson says. "You make your deal with the devil, and you pay. You're responsible for your actions. So you're a mass murderer and you're sorry? Well, hey, there are still consequences for what you did."
In the story, shy and nerdy leading man Seymour becomes a botanical star when his unique plant is discovered by the media. To keep his celebrity status, he has to keep the plant healthy by feeding it blood. Eventually, the plant becomes so large that it needs whole people to be satisfied, and Seymour loses control of his pet.
Off-Broadway smash
Both Robinson and composer Alan Menken remember Ashman as a genius whose vision of Little Shop is responsible for its enduring success. Ashman moonlighted as a playwright in the 1970s while working as an editor. Toward the end of the decade he also became the artistic director of the small off-Broadway WPA Theatre.
It was there the show opened on May 6, 1982 -- Menken remembers it as "a little show designed to run a while and make money, that would let people know we could do it, and eventually get our chance to do another big Broadway show."
Instead, Little Shop became a sensation, moving three months later to a larger off-Broadway house, and running there for more than 2,200 performances.
"It was an unbelievable period when a new show comes to life and you feel the energy of an audience discovering it," Menken says. "I would call in to ask how our baby is doing, and they'd say, `It's up and walking, running and eating people.'"
Menken remembers Ashman once saying he wanted the musical to be the dark side of Grease with songs that sounded as if they came from a grade-B horror movie, with an apocalyptic "wall of sound" perfected by late rock music producer Phil Spector.
The musical became a staple in stock, regional and community theaters, and spawned at least one large-scale tour that played South Florida.
But despite the stage musical's success, Ashman had the '86 film version's ending re-shot after it was shown to preview audiences.
"He had to," says Menken.
"I was at a preview where they saw the original ending and it was not a happy audience. The leading lady died. The leading man died. The plant started eating the world.
"I was blown away that Howard could rewrite the ending in a way that preserved 90 percent of what they'd already shot. Seymour was able to save Audrey [his girlfriend] from the plant. But instead of being the little musical that could, it became a substantial movie musical.
Ashman and Menken went on to write the Disney movie musicals The Little Mermaid, Beauty and the Beast and Aladdin, winning Oscars for best song for the first two. Ashman died in 1991, before Beauty and the Beast was turned into Disney's first smash Broadway musical.
Unlike many other off-Broadway hits, Little Shop never transferred to Broadway itself. Menken says the buzz for an uptown revival began about five years ago, once fantasy became fashionable around Times Square (largely through Menken's Beauty and the Beast).
Keeping it dark
Menken, though he's become a major player in Broadway's musical establishment, remains firmly in charge of maintaining Ashman's original vision. Sharing that commitment is the revival's director Connie Grappo, who was Ashman's assistant in 1982. And of course, there is puppeteer Robinson, who's using new technology (some still in development) to morph Audrey from cult creature to mega-monster.
Coincidentally, the elder flower shop owner Mushnik is played by Lee Wilkof, the naif Seymour in the '82 production and most recently a Tony Award nominee for the revival of Kiss Me Kate. (He is also Grappo's husband; they married during the original Little Shop go-round).
The rest of the Broadway production's team is a who's who of who's hot at the moment. Kathleen Marshall (Kiss Me Kate, Seussical, Swinging on a Star) choreographs; Scott Pask (Urinetown) is scenic designer; Donald Holder (The Lion King, Thoroughly Modern Millie) is lighting designer.
The show stars Alice Ripley (Tony nomination for Side Show, plus applauded turns in James Joyce's The Dead, The Who's Tommy and The Rocky Horror Show), Hunter Foster of Urinetown as Seymour, and Reg Rogers (Lortel and Obie awards for The Dazzle) as the dentist Orin.
They've all set up shop in Coral Gables for the Actors' Playhouse first-ever Broadway tryout, not because anyone's worried the show needs a test. It's to give the new Audrey II time to work out the kinks. Pask has built a regional theater-sized set around Audrey for the local production, which tops off at nearly $1 million. That's the Actors' Playhouse usual big-musical production budget of around $350,000, plus enhancement money from the other producers. Separate, Broadway-scale scenery is being designed for the move to New York, which has a budget of about $8 million.
"I would say we're testing all the technical things, and Audrey is the biggest of any parts of the production, in Florida," Robinson says.
He pauses a moment, puckers, then laughs.
"Some of the actors may think they are, but this character is written so strongly, it's her show."