Sesame Street enters its 34th imaginative year
Season premiere on Monday April 7th
Courtesy of Sesame Workshop
April 4, 2003
The new season of "Sesame Street" will show how a 3-year-old monster/Muppet learns about the different kinds of love after he gets a crush on Gina, the very human veterinarian.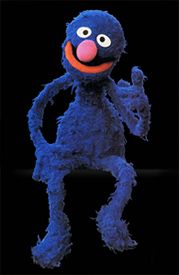 The PBS series began its 34th season Monday, April 7, with new features including one showing Grover traveling around the world and one starring "Global Thingy," a friendly globe who teaches other Thingys about sharing, cooperation and empathy.
"Journey To Ernie," a problem-solving game of hide-and-seek. Viewers accompany Big Bird on an adventurous search for Ernie in the series, "Sesame Street."

This story, by the way, is brought to you by the number 7 ... Actually, here's an update for baby boomers: "Sesame Street" no longer has imaginary commercials and fast cuts back and forth between stories. That worked back in the time of "Laugh-In," but the emphasis today is on uninterrupted narratives for children accustomed to watching the same video repeatedly.
But the most important things about the show haven't changed. "Sesame Street" is still working to make children more aware of the entire world, executive producer Lewis Bernstein said in a phone interview.
Bernstein said he hopes the new segments will help children to embrace diversity.
The new "Global Grover" feature is designed to show children from around the world, and it will be shown on both the American and various foreign versions of "Sesame Street," Bernstein said.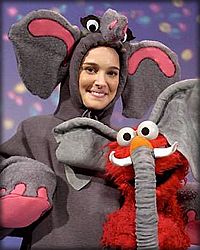 Another segment featuring Big Bird emphasizes the importance of standing up for those who are different. Big Bird's friend, a bird, won't play with the Bird's best pal, Aloysius Snuffleupagus, aka Snuffy — because he's not a bird.
"Big Bird says, 'If you can't play with my friend, I can't play with you.' We wanted to teach accountability; you have to make a stand," Bernstein said.
Bernstein summed up the series' philosophy: " 'Sesame Street' tries to inspire children to reach for the stars, educate them and help them to realize their potential."
And the series' research department has worked with universities and discovered the lessons taught on "Sesame Street" stay with children, he said.
"Sesame Street" is designed for ages 3 to 5, but you might catch a 2-year-old watching. "We don't recommend starting before 2," Bernstein said, chuckling.
He talked about the upcoming Elmo story in which he tries everything, including serenading Gina, to get her attention.
"It's to show, 'How do you communicate?' His friend (Rosita) gives him suggestions," Bernstein said.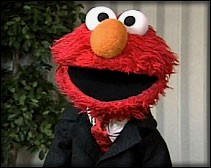 Gina, played with a lot of heart and humor by Alison Bartlett O'Reilly, helps Elmo to get past the crush in a way that's honest but kind and gentle. In fact, the episode might teach adults something about dealing with kids.
"Sesame Street" is designed for the possibility that parents are watching with their children, but that's less the case today than when the show premiered, Bernstein said.
The lessons, which go far beyond the number 7, keep coming, and "Sesame Street" keeps finding new ways to deliver them. One segment of the new animated "Global Thingy" feature deals with sportsmanship. "A group of thingys have a race," Bernstein said. "The Lady Bug thingy trips and falls, and the others decide it's more important to help her than win the race.
"There's a sense of empathy."
Features returning this season include "Journey to Ernie," in which Big Bird looks for him.
And Bert and Ernie are still pals. Ernie still has that rubber ducky, which he sang about a long time ago.
Human guest stars continue to sing and interact with the Muppets.
"Sheryl Crow sings a parody of her song, 'Soak Up the Sun.' We have her on the beach next to the letter 'I,' and the song' is about the letter 'I' soaking up the sun," Bernstein said.
"Whose Line Is It Anyway?" star Wayne Brady is on the show this season to demonstrate what the word "between" means. He's sandwiched between large slices of bread.
"Star Wars" star Natalie Portman appears on "Sesame Street" with a new twist for the actress known as Queen Padmi Amidala. "She's someone who doesn't want to be a princess; she wants to play an elephant," Bernstein said.
Even a princess has her dreams.