Mr. Noodle, Michael Jeter Dies at 50
Courtesy of Reuters
April 1, 2003
Award-winning stage and screen actor Michael Jeter, an "actor's actor" who was beloved by children as Sesame Street's The Other Mr. Noodle, died over the weekend in Los Angeles, his publicist said on Tuesday.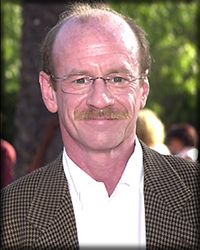 Jeter, who revealed in 1997 that he had contracted HIV (news - web sites) and was a longtime supporter of AIDS (news - web sites) charities, was found dead in his Hollywood Hills home on Sunday, his publicist said. The cause of his death has not been determined. Jeter was 50.
The slight, prematurely balding actor won fame and an Emmy award in 1992 for his role as wimpy assistant coach Herman Stiles in TV's "Evening Shade" opposite Burt Reynolds (news).
He was nominated twice more for "Evening Shade" before the show ended in 1994, and twice for guest appearances on "Picket Fences" and "Chicago Hope."
The Tennessee native earned a Tony award and other honors in 1990 for his Broadway performance as a dying clerk enjoying a last fling in Berlin in "Grand Hotel."
At the time of his death, Jeter was wrapping up a role in "The Polar Express" with actor Tom Hanks (news), with whom he shared the screen in "The Green Mile." In that film, Jeter played a condemned murderer who befriends a cell block mouse.
Filming was suspended on "The Polar Express" on Monday in observance of Jeter's death, his publicist said.
Born the son of a physician on Aug. 26, 1952, in Lawrenceburg, Tennessee, Jeter discovered his love of acting while studying medicine at Memphis State University.
After graduation, he moved to New York and worked at a law firm while trying to land his first acting job. That came in 1979, as a small role in Milos Forman (news)'s film "Hair."
Dubbing an "actor's actor" by critics, Jeter earned rave reviews for his turn as a homeless cabaret singer in "The Fisher King" opposite Robin Williams (news).
He starred again with Williams in "Patch Adams" and "Jakob the Liar," and in Clint Eastwood (news)'s "True Crimes." His credits include "Air Bud," "Mousehunt," "Waterworld," "Tango and Cash," "Zelig" and numerous guest-starring TV and stage roles.
In 2000, Jeter began his run as the bumbling Mr. Noodle for the children's TV series "Sesame Street." He is survived by his life partner, Sean Blue, his parents and five siblings.