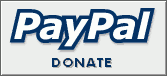 Coming March 4, Zoe's Dance Moves
Let's Hear it for Girl Power!
By Annika Abel
February 21, 2003
Finally! A Sesame Street home video starring a female Muppet! Sesame Workshop is making a concerted effort to increase the visibility of its female Muppets; allowing the female half of the Sesame Street audience to identify with main characters. Zoe's Dance Moves is an important step in this direction.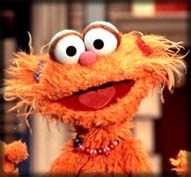 Sesame Street has long offered strong female role models. Maria is not only a constant presence on the street, she also held a traditionally male job until season 33, when the Fix-it Shop became the Mail-it Shop. Gina is a vet, an important position indeed in a community made up of cows, chickens, bears, birds and snufffulupaguses. However, all the adult human characters, and even the teenaged Gabby, do not provide the all-important peer role model children find when they recognize themselves, their abilities, likes, and dislikes, in a Muppet.
From the start, Big Bird filled this role for boys. Big Bird is the every-bird character, asking questions children ask, playing games children play, and making mistakes kids make. Except Big Bird, like Elmo and Cookie Monster and Grover and Bert and Ernie, is male. He cannot speak to the experience of growing up female.
Over the years the Workshop has introduced a number of female Muppets. None have caught on with the audience like Zoe. Zoe provides a strong, independent female image. She knows how to have fun, has a vivid imagination, and is able to amuse herself with nothing but a jacket for a playmate. Prairie Dawn, probably the female Muppet with the most exposure over the years, is always the director. Zoe, with her easygoing, affable personality, is the every-Muppet character for girls.

Perhaps equally important, Zoe is a monster. Prairie Dawn is a human-like Muppet, as was Betty Lou. As a monster, Zoe is able to capture more of the fun of being a Muppet. She is a better foil for Elmo, Telly and Baby Bear because, like the boys, she is a magical character who can only exist in storybooks and imaginary places, like Sesame Street.
Of course there are other girls hanging around 123 these days. Rosita and Lulu are regular cast members. Rosita, more than the newer Lulu, is a multi-faceted character fully integrated into the Sesame crowd. Perhaps in time, as these characters continue to develop and find their niche, they, too, will have their own videos.
For now, it is Zoe's turn in the spot light. It may be one small relevé for Zoe, but it's a grand jeté for little girls.