The Evolution of Palisades Series 3
By James V. Carroll
August 10, 2002
I have been an enthusiastic supporter of the Muppet Show anniversary figures from Palisades since first holding the characters from wave one in my hands. The detail and texture of these items far exceed the promotional photographs. There was a build up for wave three that didn't seem to materialize with some fans when the images were released last week on palisadestoys.com. Improvements have been made and we've got the exclusive photos.
Scooter
When I made a comment about the Scooter action figure to Product Developer, Kenneth Lilly, I never imagined it would be taken seriously and see changes made so quickly. Scooter has always been one of my personal favorites and a special character to me these days in my role as Muppet Central's resident "gofer." That being said, I had great expectations for the orange mop-headed Muppet. After viewing the first prototype I could tell right away that Scooter's eye focus was off. I quickly researched the evolution of the puppet and realized that he has changed some over the years and he isn't the most photogenic Muppet. Alas, poor Scooter will never be a supermodel. I sent the images to Ken and the suggestion that a simple tweaking of the glasses could change the whole dynamic of his face.
The subtle alteration to push the lenses closer together and to slightly lower them caused the elements of his face to come together. Now the beautifully sculpted slopes of his nose and sides of his head have become evident. This is an area that most companies have had trouble capturing and Palisades has done it flawlessly. It looks like his lenses will remain larger than on the puppet. This could be one of the reported changes made because of the breakage issues surrounding Bunsen's glasses in series one.
Some have made the claim that the prototype's head is too large for the rest of the body, but that notion appears to be a misleading optical effect from the camera being positioned so closely. The new unpainted prototype appears evenly proportioned. Another concern has been the stiff quality of the body. This is necessary to allow the incredible amount of articulation. How would he ride his packed-in skateboard without bending knees? He also comes with a megaphone, Chinese take-out box, clipboard and carrying tray all intricately sculpted to fit in his hands. I count at least 14 points of articulation. When posed this guy looks anything but stiff.
Vacation Fozzie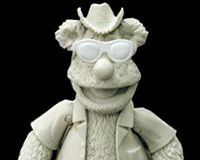 The Fozzie figures have always had a good likeness that gets better every time I look at him and this Vacation Fozzie exclusive doesn't disappoint. He has the least articulation of this wave but enough and maybe even more than the regular Fozzie. Too many extra joints would cut into the beautiful fur texture and degrade the quality of the figure. He comes with a magnetic straw hat, sunglasses, suitcase and a floatie. This version of Fozzie may seem a little odd on paper, but it fits and has loads of personality.
Lew Zealand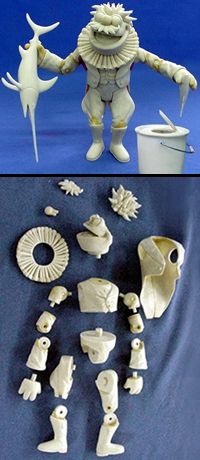 Lew Zealand has an amazing amount of articulation. His eyes are evenly spaced, (something that no one seems to get right) and it looks as though they have straightened his mouth from the smirk he had in the prototype. It never bothered me before, but he looks good either way. His hair and mustache are more stylized in this version with the right degree of wildness. His clothes and collar have high detail with folds and lace. He has knee joints. This may be more of a trend in future waves. Lew comes with a bucket that has an articulated handle and flip top. This could have easily been a simplistic design, but Palisades took the extra steps. He has his trademark fish with him and the swordfish even has tiny teeth.
Tux Rowlf
Tux Rowlf is also controversial, but for other reasons. His ears are articulated, but like Fozzie there are limitations. We will have to wait a few waves for a more articulated standard Rowlf. It would be great for him to have knee joints, but I never really remember him seated at the piano, though we figured he probably wasn't standing. It has been debated that he has a tuft of hair on top, but I am assured that it is not there. I think a tiny tuft makes him look rather suave in his tuxedo. He comes with his detailed Beethoven bust and incredible piano. This may not be the Rowlf fans have been waiting for, but it is certainly a wonderful addition to the collection and a much-coveted figure of wave three.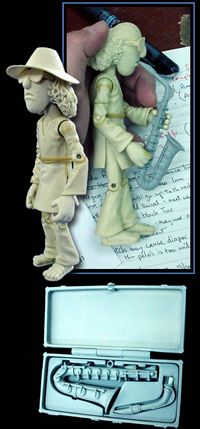 Zoot
Zoot has to be the most controversial figure of the wave. Some have said he is too thin and I agree he is a little on the slim side, but not by much. His thickness has fluctuated in different projects. The main feature that stands out is his more pronounced neck. Ken remarks that it is a deliberate choice to give his head more mobility. Zoot's sunglasses have a slight droop to them that may be positioned to contour to his magnetic hat. They may want to consider tweaking the glasses to make them straight, as it has been a hot button with several fans. The Saxophone fits perfectly in its case with latches. The mouthpiece is even molded as a separate part. Again, he has knee joints. I'm very pleased with this trend.
Swedish Chef and Lobster Banditos
The Swedish Chef has received a warm reception so far and this close up look reveals the detail on his hands. They are not completely realistic or totally Muppetized, but with the texture, wrinkles and fingernails they are the perfect compromise. The magnetized hat is a nice touch. He also appears to have articulation at the waist hidden beneath his apron.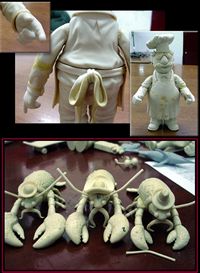 The three Lobster Banditos are not replications of the same sculpt; each has its own details and look. The hats are different and there is variation from claws to mustaches. It is not clear if they have much articulation, but with the texture and care put into these small accessories they have exceeded my expectations.
This is shaping up to be my favorite wave so far. The articulation keeps increasing with every release. What's next, moving eyeballs? Probably not.
Some hardcore fans will always dispute the likeness of each character but I look at it from a different perspective. Any sculptor will tell you that there is a degree of interpretation in every piece. It's a different material they are working with and an exact replica would be void of the spark that is necessary for an artist to create. There are no performers bringing these figures to life so it's important that they don't look lifeless sitting on the shelf. These are the best Muppet figures that I have ever seen. There are minor liberties taken, but they have all been made in the spirit of each character.