Construction Site in production for fourth season
Courtesy of Henson.com
July 23, 2002

The Jim Henson Company today announced that series four of its successful live-action pre-school show Jim Henson's Construction Site is back in production. Shooting begins at Millennium Studios in Elstree from 5th August until 1st October 2002, on 13 ten minute shows. Construction Site™ is set to air on CiTV in Autumn 2002.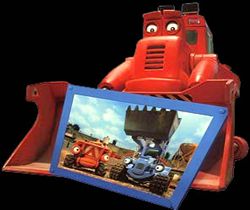 Series one was ranked among ITV's (UK) top ten kid's shows by The Guardian and the new series will feature six new locations for the adventures of these building site machines - a dock, an urban setting, the moon, a forest, a motorway and a snowy mountainscape.
The fully animatronic characters have been built at Jim Henson's Creature Shopä in London and are performed live by puppeteers, who also voice the characters. Uniquely this is the first time that Henson's advanced animatronic techniques, traditionally reserved for films such as Babe and Lost in Space, have been used on a pre-school production. This is the only live-action children's show shot using a motion control rig camera - a technique that allows perfection of camera moves and in-camera action, and also sits the lens inches from the floor of the set, thereby creating the correct illusion of scale for the characters.
Construction Site™ is created and produced by The Jim Henson Company with executive producer Angus Fletcher, who co-created Construction Site™ and Jim Henson's The Hoobs. It is produced by Sue Taylor (Jim Henson's The Hoobs and Mopatop's Shop) and directed by Simon Spencer (Jim Henson's The Hoobs, Mopatop's Shop), with Laura Beaumont as head writer (Jim Henson's The Hoobs, Mopatop's Shop, Angelina Ballerina) and set design by Steve Ritchie.
Jim Henson's Construction Site™ taps into kids' intense interest in the world of machines, and gives them a chance to learn about teamwork and creative problem solving. But first and foremost, this is a series filled with fun and adventure - a place where children come to make friends with an enthusiastic young machine hero who, just like them, is trying to find his way in the world.
The Jim Henson Company, an established leader in family entertainment for more than 40 years, is a multimedia production company; one of the top character licensors in the industry; a leading publisher of children's books; and home to Jim Henson Television, Jim Henson Pictures, Jim Henson Interactive and Jim Henson's Creature Shop™. The Company is headquartered in Los Angeles with offices and production facilities in New York and London. The Jim Henson Company is a wholly owned subsidiary of EM.TV & Merchandising AG based in Munich, Germany. The Jim Henson Company website is located at: www.henson.com.