Starz to premiere Kermit's Swamp Years in August
Editor's note: We just got word from Starz that the documentary has been shortened to 4-8 minutes. It was scaled back to a short-form featurette due to not enough time or materials available to make as in-depth a piece as they originally planned. Due to this change, "Muppet Memories" will focus entirely on Kermit's Swamp Years.
Courtesy of STARZ! Family
June 27, 2002

A special preview of the STARZ! Family channel featuring the world premiere of the live-action comedy-adventure "Kermit's Swamp Years" will pre-empt regular programming on the flagship STARZ! channel on August 18, 2002 at 6:30 p.m. ET/PT. The film tells the never-before-told true story of how the world's most famous frog left the swamp for the very first time and began an adventure that would change his life and ours, forever.
"Muppet Memories," a STARZ! Family original documentary on the history of the Muppets will be shown immediately after "Kermit's Swamp Years," featuring exclusive behind-the-scenes footage and interviews with Jim Henson, Frank Oz and other members of the Muppet family.
"Jim Henson's Kermit character is universally known and loved," said Robert Leighton, president of Starz Encore Entertainment. "So we're especially proud to offer outstanding original fare like 'Kermit's Swamp Years' to let viewers who are perhaps unfamiliar with our channel see the great family entertainment available on STARZ! Family."
Launched in May of 1999, STARZ! Family is the only movie channel showing 100 percent family movies, including never-before-seen STARZ! Family Premieres like "Kermit's Swamp Years." Previous STARZ! Family Premieres have included "Possums," a football comedy starring Mac Davis and former Dallas Cowboys' football coach Barry Switzer; "Pirates of the Plain," a fantasy adventure starring Tim Curry; and the heartwarming "Stanley's Gig" starring William Sanderson and Faye Dunaway. STARZ! Family is available on Echostar, and selected cable systems such as AT&T, Comcast, Time Warner, Cox, Charter, Adelphia, and Cablevision.
An international star for more than 45 years, Jim Henson's Kermit the Frog is a friend and a role model to millions. He began his climb to the top of the amphibian elite from humble beginnings. Born one of several thousand in a southern swamp, Kermit's life began swimmingly. His early years were typical and uneventful. The most notable event in his adolescence was his transformation from tadpole to frog. Kermit's first stop outside the swamp was Washington, D.C., where he starred in a local television show, "Sam and Friends," which earned him his first Emmy® Award. In 1956, he made his network television debut on Steve Allen's "Tonight Show." This led to many more television appearances and finally his big break in 1969. Kermit, along with his Muppet friends, joined the cast of a new show called "Sesame Street." Since then he has made hit television shows, movies, records, and even hosts a theme park attraction. Yet little is known about Kermit the Frog's childhood. How did the tadpole become the frog and celebrity he is today?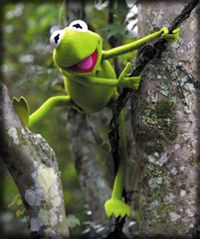 "Kermit's Swamp Years" explores Kermit's coming-of-age days when he was a 12-year-old frog with best friends Goggles and Croaker. It was a time when three young frogs dreamed of doing something extraordinary with their lives. The film follows Kermit and his buddies through a glorious adventure into the world outside the swamp -- an expedition that changed his life forever.
"The story of Kermit's youth is a treasure that has yet to be told until now," said executive producer Michael Polis. "We know his fans across the country will be entertained and enchanted by this film."
"Kermit's Swamp Years" features an acclaimed lineup of muppeteers: two-time Emmy® nominee Steve Whitmire brings Kermit to life and also voices Jack Rabbit and Chico; Emmy® winners Dave Goelz and Jerry Nelson voice younger -- and ever irreverent -- Statler and Waldorf; Bill Barretta voices Croaker, Horace D' Fly, Roy and Turtle #2; John Kennedy voices Blotch and Arnie and Daytime Emmy® winner Joseph Mazzarino plays Goggles and Turtle #1, and shares the screenplay credit with Jim Lewis. Lewis also wrote the story and is credited alongside Polis as executive producer. The film was directed by Emmy® winner David Gumpel, with Ritamarie Periggi acting as producer.
"Kermit's Swamp Years" was shot on location in Winter Garden, Florida and at Disney-MGM Studios in Orlando, Florida during the fall of 2001.
James (Jim) Maury Henson was born September 2, 1936 in Leland, Mississippi. He knew he'd found his artistic medium in 1950, when TV first graced the Henson home. At 16, he began marketing his enthusiasm for television to every local station. Finally, after two years of rejection, Henson landed a job at WTOP as a puppeteer. With no previous experience, and a few hand-made puppets, Henson and a friend claimed the limelight on the "Junior Good Morning Show." That was the first of many triumphs for Henson. Over the next 35 years, his innovative use of materials and technology revolutionized the art of puppetry. Today, the Muppets -- his most celebrated creation -- are a staple in the international entertainment diet.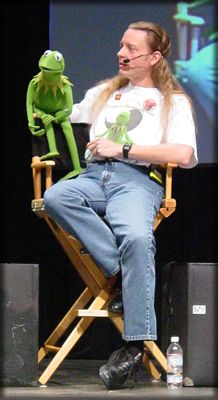 Steve Whitmire first met Jim Henson and Frank Oz in the mid 70's during an audition for the popular children's television series "Sesame Street." They immediately brought him to London to work on a newly developed series called "The Muppet Show." It was a worldwide phenomenon, and on it Whitmire experimented with many different characters and even developed the now-popular Rizzo, the wise-cracking stage rat. He moved on to do Henson's next series, "Fraggle Rock," where he portrayed two main characters: Wembly and Sprocket. When legendary Muppets creator Henson unexpectedly died in 1990, Whitmire assumed his two major characters: Kermit the Frog and "Sesame Street's" Ernie. On playing the famous frog Whitmire says, "Kermit comes from me, from the heart, rather than simply my recollection of Jim's performance, although I usually have Jim in mind as I perform Kermit. It will always be my tribute to Jim and all that he taught me." Ever versatile, Whitmire also took on the prominent role of Beaker, the ecstatic lab assistant, when Richard Hunt passed away in 1992.
Starz Encore Group LLC (Starz Encore) is the largest provider of cable and satellite-delivered premium movie channels in the United States, owning 15 domestic channels with approximately 121 million pay units. Starz Encore offers the Starz Super Pak(SM), with up to 12 digital movie channels, and Starz On Demand(SM), the first premium subscription video-on-demand (SVOD) service. Starz Encore is a wholly owned subsidiary of Liberty Media Corporation, www.starzencore.com.