Kermit among Walk of Fame honorees
Courtesy of the Hollywood Chamber of Commerce
June 22, 2002
Martin Scorsese, Etta James, Kevin Bacon, Susan Sarandon and Kermit the Frog are among entertainers who will be enshrined in the Hollywood Walk of Fame next year.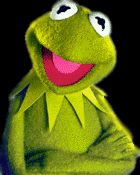 "This year's honorees met all the criteria in longevity, professional achievement and contributions to the community," said Johnny Grant, chairman of the Walk of Fame Committee of the Hollywood Chamber of Commerce.
The 2003 Walk of Fame recipients in the film category included Bacon, Robert Duvall, Sarandon and Scorsese. Television honorees included Beau Bridges, Drew Carey, Kermit, Larry McCormick, the Osmond Family, Isabel Sanford and Suzanne Somers.
Michael Bolton, James, Carole King, Israel Lopez "Cachao" and Earl Scruggs will be honored in the recording category and live theater performers included Betty Garrett, Doris Roberts and Carmen Zapata.
Posthumous stars will be dedicated in honor of Gilda Radner, for television, and Richard Rodgers, for live theater.
Recipients were chosen from hundreds of nominations and ratified by the Chamber's Board of Directors.