UK "Best of the Muppet Show" DVD arrives in March
Courtesy of Columbia TriStar and the R2 Project
February 6, 2002
"The Very Best of the Muppet Show' brings together some of the funniest moments of the original TV shows, and Columbia TriStar Home Entertainment are generously releasing them all on one DVD on 11th March 2002!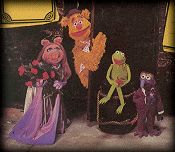 The cries of Muppet fans have not fallen upon deaf ears...demand has prompted the compilation of this best-of DVD, and as ever, the Muppets deliver their unique brand of comedy in their own inimitable style! The Muppet Show is hailed as the most outstanding international broadcasting success story of all time, boasting 232 million viewers in over 100 countries.
Join Kermit and chums in this first ever Muppet Show DVD, complete with never- released-before footage. The main event consists of a 50 minute Best of the Muppet Show compilation, the Mark Hamill Star Wars episode with an introduction from Jim Henson's son (Brian Henson), and the Elton John episode also with an introduction from Brian Henson!
DVD-only extras are even more special - a 52 minute documentary "Of Muppets and Men"; The Making of the Muppet Show; a 'Test your Knowledge Muppet Quiz; Muppet profiles; Muppet conceptual drawings, and Muppet facts - oodles of Muppet paraphernalia to please even the most ardent of fan!