Bear toys and dinnerware arrive at Sbarros
Courtesy of the Jim Henson Company
January 31, 2002
Young diners can expect to see a few familiar faces the next time they visit Sbarro Pizzerias at their local neighborhood mall. Bear and his friends from the Emmy Award-winning preschool program, Jim Henson's Bear in the Big Blue House , are featured on custom developed dinnerware premium items distributed with kids' meals at Sbarro. The promotion, which started January 18th, will also include corresponding point-of-purchase signage and restaurant packaging in at least 700 Sbarro locations nationwide.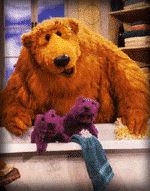 The four Bear premium dinnerware items include a Bear plate, little girl bear Ojo bowl, and a spoon and fork set featuring twin otters Pip and Pop. Strottman International created the promotion and produced the dinnerware, which is available for a limited time only. The premiums will be supported in-store by Bear in the Big Blue House point-of-purchase displays, counter cards, pizza boxes and mini meal bags.
"We are very excited that Bear is being featured in this promotion," said Tom Wong, Senior Vice President of Youth Insights and Entertainment Marketing at Strottman.
"We know meals can be a great opportunity for kids and their parents to get together, so we created a set of dinnerware with Bear and his friends to make this special time more fun," said Michael Polis, Senior Vice President of Marketing Worldwide for The Jim Henson Company. "Partnering with Sbarro Pizzerias at mall-based locations is a natural fit considering their family-friendly dining environment and convenient locations across the U.S."
Jim Henson's Bear in The Big Blue House features the world-famous seven-foot-tall Bear who loves to Cha Cha Cha, and all of his friends from Woodland Valley. The preschool series airs daily on Disney Channel's Playhouse Disney and has been renewed for a fourth season. In addition, BEAR IN THE BIG BLUE HOUSE LIVE!, a national touring stage show produced by VEE Corporation that features the entire cast from the television show, is currently touring in over 40 markets in the United States.
The Jim Henson Company, an established leader in family entertainment for more than 40 years, is an independent multimedia production company; one of the top character licensors in the industry; a leading publisher of children's books; and home to Jim Henson Television, Jim Henson Pictures, Jim Henson Interactive and Jim Henson's Creature ShopÔ . With headquarters in Los Angeles and offices and production facilities in New York and London, the company is a wholly owned subsidiary of EM.TV & Merchandising AG based in Munich, Germany. The Jim Henson Company website is located at: www.henson.com.
Sbarro has been preparing their famous hand-stretched New York style pizzas for over 40 years, and has built upon a tradition of serving quality food made fresh and prepared from family recipes. There are over 920 Sbarro restaurant locations in 27 countries around the globe. Sbarro's Corporate Headquarters are located in Melville, New York.