Muppet Central named Delphi's Forum of the Month
Courtesy of DelphiForums.com
November 1, 2000
Muppet Central Forum has received DelphiForums.com's "FastTrack Forum of the Month" award for November 2000.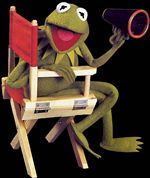 Delphi's FastTrack program lists the top 100 forums on Delphi. Each month one of these forums is selected by Delphi's editorial staff to be the "FastTrack Forum of the Month". Muppet Central is the second forum to receive this honor, which began last month in October.
Muppet Central Forum will be promoted on the DelphiForums.com home page and on site-wide banner ads throughout all of Delphi's forums during the month of November. The site-wide banner ads will be seen on more than 300,000 forums to the millions of Delphi's members.
An interview with Muppet Central Forum Host, Phillip Chapman will be posted in Delphi's FastTrack Forum and is archived here below. "We're very honored that Delphi thinks so highly of our forum to give us this honor. Everyone loves the creations of The Jim Henson Company, so we're looking forward to getting to know even more fans who share this common bond."
Chris Smigliano serves as Chat Moderator for Muppet Central Forum while Cindy Chapman overseas the FAQ and Promotions.
The FastTrack Forum of the Month is selected by Delphi's editorial staff who look for quality forums that have: an active host (or hosting team), involved membership, growth, interesting topics, and a forum that interests others.

November's FastTrack Forum of the Month: Muppet Central
This month's FastTrack Forum of the Month is Delphi's Muppet Central Host, PHILCHAPMAN .
Tell us a little bit about your Forum?
Muppet Central Forum provides an opportunity to meet people who have come together through an admiration and respect for Jim Henson's Muppets. We try to create a fun and loving atmosphere where people can meet and interact. Jim Henson's caring characters have touched my life just like millions of others around the world. Jim Henson once said, "I believe in taking a positive attitude toward the world, toward people, and toward my work. I think I'm here for a purpose." That quote has become our theme.
When did you start your Forum?
Our Forum began in May 1998 as an extension of our Web site. I was looking for a Forum site that would be a base for great discussions and offer management capabilities for the Host. I liked Delphi because of the graphical interface and the joint accessibility of a Message Board and Chat.
Why did you start your Forum?
Our goal is to unite Muppet fans from around the world by giving Jim Henson fans a way for to interact with one another. We emphasize that we're an online family and that theme carries throughout the discussions and community. It's neat to know that we are bringing people together who would probably never have met otherwise.
What advice would you give to a new Forum Host?
A Forum Host should not concentrate on numbers, the real focus should be on the quality of discussions. The key to a great Forum is providing quality discussions and a sense of community that an individual cannot find anywhere else and your membership will grow. What will set you apart is if you not only discuss your Forum topic, but also provide a positive avenue for people to develop friendships with one another.
How much time do you spend managing your Forum? Do you have many assistants that help out?
I spend time daily posting and reading. I'm very privileged to have two great assistants. Chris Smigliano (membername SMIGLIANO) overseas our chat sessions and Cindy Harns (membername CINDYLOU74) does promotions and our FAQ. There are several other key members, which play an important role. Working together, we can accomplish much more than as individuals.
Is there a particular discussion thread that has generated the most activity in your Forum?
We've had many discussions that have generated a lot of activity. There is going to be a New Muppet Show on television in the next 12-24 months. Almost everyone watched the original show in the '70's, so this is an exciting time for fans. Also, last February, German-based EM.TV bought the Jim Henson Company and that naturally generated a lot of discussions, as the Henson family has always owned the company up to this year.
Are most discussions strictly about the Muppets? Do you start "off-topic" discussions often?
While most of these discussions are about the Muppets or other Jim Henson Company projects, there are many discussions about issues related to our members. For example, we try to make birthdays and other "personal" special events, fun. We have a folder called "Friends and Family" which originated because of friendships developed in our Forum.
Do you ever use contests, polls, or quizzes in your Forum? If so, tell us about them.
We've done quite a few online games. For example, we've been having a "Muppet Alphabet Game" where members take turns and name a character for each letter of the alphabet. We've also had a variety of trivia discussions and cameo sightings on TV and films as well.
Do you have any tricks to get lurkers to participate? Do you find some members hesitant to post?
Most are not hesitant, but we try to provide content and discussions that really encourage people to get involved. We have several people who have become known as part of our "Welcome Committee" and they make newcomers feel at home. We've also begun sending out a letter to those who register at our Forum for the first time to try to make their initiation process a little easier. People participate because of the friendly, positive atmosphere and because all questions are welcome. Through this encouraging community, fans feel comfortable reading and jumping in to share opinions and ideas.
What was the most interesting post you've seen in your Forum?
Some of the neatest posts we've had are from a variety of Muppet performers and Henson employees that frequent our board. It's really exciting to have their support and to get behind-the-scenes info from their perspective. We're not officially related with the company, so it's even more of a compliment to our members that Henson employees participate.
How do you find people interested in your topic of conversation, and how do you get them to participate?
People participate because of the friendly, positive atmosphere and because all questions are welcome. Through this encouraging community, fans feel comfortable reading and jumping in to share opinions and ideas.
Have you ever tried to organize special events where your members could meet? Are most of your members from the US or do you have a large international group?
There have been quite a few of these get-togethers literally, all over the world from people who have met at Muppet Central! In fact, we recently had a discussion about "who met whom," and it was really something to hear about all the face-to-face friendships. Sometimes online you don't realize the impact you are having because you don't see the people face-to-face. We have a very large international base, probably at least 25% from a wide variety of countries from England to Germany and Holland to Australia.
What's the funniest thing that's ever happened on your Forum?
We've had several very active threads where fans recorded their voices and impersonated various Muppet characters. It's amazing how talented a lot of our members are. One of our members met his future wife and the Muppets were involved in how they first met. We were kind of a sounding board for him, so it was really neat when they came full circle and got married. Muppet Central is part of real-life and evidence of how Muppet craziness happens in the real world too.
How has running a successful Forum changed your life?
It is such a privilege to meet all these wonderful people with whom you share a common bond. Even though Jim Henson passed away in 1990, the focus of his company's work was never just about the characters, it was about the message behind them, the balance between the sacred and the silly. I like to think that in a small way, we're keeping his vision alive by reaching out and helping one another.