Dark Crystal dolls planned for 2001
By Abby Girdler
Courtesy of Sideshow Toy
October 18, 2000
The Great Conjunction will finally arrive next Spring.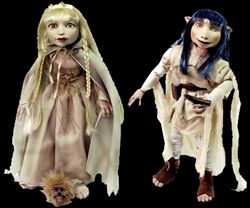 If it looks like Gelfling and smells like Gelfling, then it might be one of two 12-inch dolls from Sideshow Toy. The company, renown for its line of highly-sought "Universal Monsters Little Big Head" figures, is now licensed to produce 12-inch and 24-inch characters based on the 1982 Henson film classic The Dark Crystal.
First in the series are two 12-inch Jen and Kira dolls replete with accessories. Pictures of these dolls will be available in February, 2001, with a final release slated for March, 2001. Sideshow Toys also plans to produce 24-inch Skeksis and Mystic dolls later in the year. The dolls are part of Sideshow's Pozer line of highly-detailed, posable characters.

These dolls will be the first Dark Crystal toys ever released. While action figures were planned back in 1982, the movie's lukewarm reception caused Hasbro to cancel production. Other merchandise including puppets and plush dolls also remained unreleased. A small run of miniature die-cast Dark Crystal models made its way to hobby store shelves in 1982, but the sets were scarcely seen and they currently command high prices from Muppet collectors.
Despite its lackluster theatrical debut, The Dark Crystal's popularity has soared over the years. The film's rich, provocative characters became benchmarks for movie animatronics, and the immersive onscreen world created by Jim Henson and Brian Froud is often compared to that of Star Wars. Scores of fans have loudly begged and pleaded for more Dark Crystal, so these dolls are sure to be hits with fans and collectors alike.

Other film properties in Sidehow Toy's 2001 lineup include Monty Python and the Holy Grail, Spinal Tap, and Young Frankenstein.

Sideshow Toy is on-line at www.sideshowtoy.com.