Jim Henson sculpture released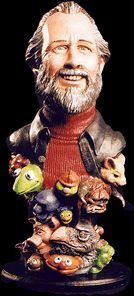 By Phillip Chapman
Courtesy of G-Force Models
August 28, 2000
After entertaining for generations, ten years after his passing, the first commercially available Jim Henson sculpture has been released.
Sculpted by Anthony Veilleux, this piece includes a 10-inch finely detailed bust of Jim Henson surrounded at the base by a wide variety of 23 of his most famous characters.
The sculpture is being offered for a limited time for $60 and is available from G-Force Models.
For more information including a 360 view of the whole sculpture, visit G-Force Models.
G-Force is also re-releasing the Goblin King kit from Labyrinth. It will have a smaller base and baby Toby. You will be able to get a set of Goblins seperately. Price will be $100.00.