Donna's Day season premiere stars Muppets
Courtesy of The Odyssey Channel
August 25, 2000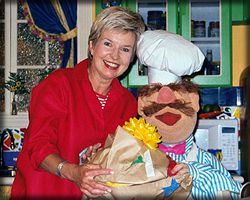 Odyssey Network will kick off the new season of its award-winning program "Donna's Day" starring Donna Erickson with a special "prime family time" premiere of the episode "Come to the Party" featuring Muppet All Stars Kermit the Frog, Rizzo the Rat and Beaker. The special telecast premieres Friday, September 1 at 6:30pm ET/PT with encores during Labor Day Weekend on Sunday, September 3 at 3:30pm ET/PT and Monday, September 4 at 6:00pm ET/PT. The series will begin its new season of 26 original episodes this October.
"Come to the Party" features Donna Erickson planning a neighborhood pizza party in her community where Kermit the Frog is vacationing. They divide up tasks with Kermit contacting his friends to entertain at the party and Donna planning and demonstrating backyard activities in which her guests, both children and adults, will participate. The episode will also include a special musical performance by a featured Muppet.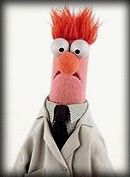 "Donna's Day" is an award-winning creative family living series that provides valuable assistance to parents and adult caregivers who want to take advantage of the time they have to spend together with the children in their lives. "Donna's Day" airs Monday through Friday (11:30 a.m. - 12 noon and 5 - 5:30 p.m., ET/PT) on Odyssey Network.
Ms. Erickson, a nationally recognized expert on parenting, an author, a former teacher and the mother of three, believes "It's the little things that count." Her can-do enthusiasm helps parents feel more imaginative, more capable and more resourceful. The series is produced by Jim Henson Television. Donna Erickson serves as co-executive producer, creator and host. Hugh Martin and Brian Henson serve as co-executive producers and Laurence A. Caso serves as producer.
Visit the official Donna's Day Web site.