Kermit statue unveiled at new LA studio
Courtesy of The Jim Henson Company
June 23, 2000
In a touching homage to both Jim Henson and Charlie Chaplin, today, The Jim Henson Company unveiled a stately 12 foot tall statue of Kermit the Frog dressed as Charlie Chaplin's The Little Tramp, which was permanently mounted on the tower of the studio's front gates. All who enter or pass by will be reminded that the two visionary's contributions to mankind are celebrated on these grounds.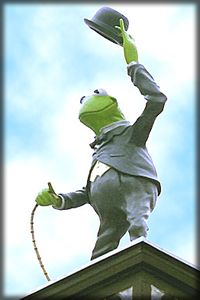 Presiding over the ceremony was Los Angeles Mayor Richard J. Riordan, Kermit the Frog, Brian Henson, Chairman, and Charles H. Rivkin, President & CEO of The Jim Henson Company.
"Jim Henson's unique brand of entertainment has brought smiles and laughter to Angelenos of all ages," said Mayor Riordan. "I am pleased to welcome Kermit and his friends at The Jim Henson Company to their new home in Hollywood. There is no better home for the Muppets than in Los Angeles - the Entertainment Capital of the World."
"I honestly believe we were destined to be here. I mean, any lot where everyone from Charlie Chaplin to Superman to the Rolling Stones has worked, is the perfect place for us," said Brian Henson.
"Over the past dozen years, we've made this city our corporate headquarters. Today, we are officially making Hollywood - and the historic Chaplin lot - our home," said Charles H. Rivkin.
A new era in the lot's creative tradition commenced as a continuing tribute to the enduring legacy of Jim Henson, one of the most gifted entertainers the world has ever known, and Charlie Chaplin, both of whom changed the way people looked at entertainment and the world.
The statue's theme began as an idea of Brian Henson and Lisa Henson, Jim Henson's son and daughter, in honor of their father and is the combined creative efforts of many people (Ed Eyth of The Jim Henson Company, freelance artists Jim Mahon and Janis Beauchamp, Maria Jimenez of Jimenez Studios and Craig Shepherd, Dave Conner and Barbara Grill of Lexington Scenery & Props, Inc.).
The Mayor's Business Team worked closely with The Jim Henson Company to acquire the Charlie Chaplin Studios, which includes the former A&M Recording Studios and Chaplin's 10,000 square-foot stage and original woodworking shop. The Company renovated the 80,000 square-foot facility and recently moved its Los Angeles based headquarters from its residence at Raleigh Studios to the new location.