Kermit's V-Chip campaign is underway
Courtesy of The Odyssey Channel
May 16, 2000
Odyssey, A Henson & Hallmark Entertainment Network, will unveil its national V-Chip awareness campaign during a special reception Tuesday, May 16 in Washington, DC, it was announced by Margaret Loesch, President and Chief Executive Officer, Odyssey.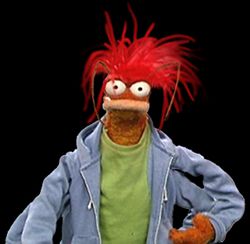 At the event, Odyssey will present the premiere of the network's series of special public service announcements starring Kermit, official spokesfrog of the campaign. Also featured in the series of spots are Miss Piggy, Pepe and other popular Muppet characters. Additional details of the broad-based public service initiative, including launch dates will be provided at the Washington, DC reception.
Among the special guests scheduled to participate in the event are Federal Communications Commission Chairman William Kennard, Representative Ed Markey (D-Ma) and Brian Henson, Chairman, The Jim Henson Company.
"There is overwhelming evidence that the American public, while supporting the television ratings system and the V-Chip technology, is still unfamiliar with them," said Ms. Loesch. "Our objective with this campaign is to educate parents with information that will help them to make informed decisions about the programming that comes into their homes. Because of his multi-generational appeal, Kermit is the ideal representative. The PSAs are fun and informative and will appeal to the entire family."
In April, as part of Odyssey's V-Chip awareness campaign, the network partnered with Circuit City Stores, Inc. and the Kaiser Family Foundation to distribute more than 750,000 special edition V-Chip parental guides featuring Kermit the Frog in more than 600 Circuit City stores nationwide.
Odyssey is a 24-hour programming service available to more than 29 million homes through 1,500 cable systems, the Primestar direct-to-home satellite service (Channel 84) and C-Band dish owners across the country. Odyssey will be available to DirecTV subscribers beginning July 1. Odyssey is owned and operated by wholly owned subsidiaries of Hallmark Entertainment, The Jim Henson Company, Liberty Media Corp. (NYSE: LMG.A and LMG.B) and the National Interfaith Cable Coalition (NICC), whose 70 members constitute the nation's largest consortium of Protestant, Jewish, Catholic and Eastern Orthodox faith groups and traditions. Odyssey Network's Web site can be found at: http://www.odysseychannel.com.