Production begins on The Hoobs
Courtesy of The Jim Henson Company
May 8, 2000
The Jim Henson Company and Channel Four have announced today, that they are to produce THE HOOBS -- the largest ever UK pre-school commission and to date the only series to address the needs of the first multi-media pre-school generation. The series (250 x half hours), will be produced by The Jim Henson Company and is planned for broadcast on Channel Four in the first quarter of 2001. The new series will provide an innovative and completely new approach to entertainment and learning for pre-schoolers, covering a vast variety of areas including communication, relationships, music, dance and art.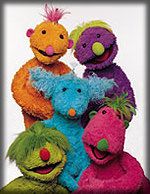 THE HOOBS will go much further than any previous formats in this arena and will work not only on television, but in the classroom via the net. A national outreach program with character appearances will support the show, providing additional interactive environments and situations.
"THE HOOBS is a tremendous addition to our expanding catalogue of pre-school programming and significantly enhances our reputation as a global player. We are thrilled to be producing this project for Channel Four," said Rod Perth, President, Jim Henson Television Group Worldwide.
"We are delighted to have the opportunity to pioneer with Channel Four a groundbreaking format that will address the needs of the first truly multi-media generation," said Angus Fletcher, Senior Vice President, International Television for The Jim Henson Company.
"As an initial broadcast outlet, Channel Four not only provides a platform inherently associated with innovation and integrity, but also offers a tremendous vehicle to achieve the program's goals through its extensive and influential educational network."
Paul Ashton, Commissioning Editor, Schools - Special Projects at Channel Four comments: "This is a thrilling project. It combines style and innovation with clear child development thinking. Channel Four is very pleased indeed to partnering The Jim Henson Company in a program venture of this scale."
The initial creative team behind the series at The Jim Henson Company include, Angus Fletcher (Executive Producer), Richard Simkins (Director/Producer), Mellie Buse (Head Writer) and Jocelyn Stevenson (Consultant).