Henson's early works released on CD
Courtesy of RaymondScott.com
April 1, 2000

Basta Records presents MANHATTAN RESEARCH INC., a 2-CD, 69-track edition of Raymond.Scott's electronic recordings from the 1950s-60s. Includes 144-page hard-cover.book.
"MANHATTAN RESEARCH INC." is a 2-CD release of RAYMOND SCOTT's 1950s/60s electronic music, packaged in a 144-page hard-bound book, featuring several previously unreleased mid-1960s collaborations with JIM HENSON.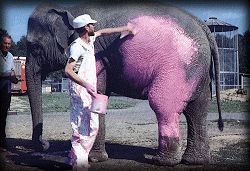 Recent findings at The Jim Henson Company Archives and The Raymond Scott Archives include such obscure Henson titles as, "Limbo: The Organized Mind," "Ripples," "Wheels That Go," "Memories," and other pre-Sesame Street works. These rare Jim henson/ Raymond Scott soundtracks, many featuring Henson's famous narrative style, are presented for the first time on MANHATTAN RESEARCH INC.
The full-color book includes historical notes written by Henson Co. archivist Karen Falk, plus rare Henson photos, film stills, archival Henson documents, and more.
Listen to an MP3 preview featuring JIM HENSON on-line. Order this great double CD today.
''The electronic work of Raymond Scott had been long out of print, but the pieces of music on MANHATTAN RESEARCH INC., recorded in the fifties and sixties, sound like nothing so much as the future.'' - Peter Buck, R.E.M.

''MANHATTAN RESEARCH INC. is a brilliant collection of Raymond Scott's difficult-to-find electronic work. I love the packaging, and the interviews are incredibly interesting and informative.'' - Adrian Utley, PORTISHEAD

''MANHATTAN RESEARCH INC. is truly an inspiring album. Very well compiled and presented, it gives you a good look at Raymond Scott's great work which has many repercussions in various fields relating to sound. Scientific, futuristic, novel, as well as humorous and dreamlike. Mad, but the kind of mad I aspire to be. Raymond Scott truly was ahead of his time.'' - Keigo, a.k.a. CORNELIUS

''The MANHATTAN RESEARCH INC. package is perfect -- and the music is too perfect!'' - Y. Konishi, PIZZICATO FIVE

''Tireless dedication and uncompromising perfectionism is evident in every detail of this wonderful collection. From the astonishing sounds to the beautiful packaging, MANHATTAN RESEARCH INC. is an essential release of pioneer electronica, adding yet another page to the ever-growing legacy of American maverick Raymond Scott.'' - JOHN ZORN

''I rate Raymond Scott as one of the greatest music technology innovators the 20th century. Many musicians on the charts today are using his ideas fairly directly. His vision was so wide, that today it is impossible to turn on a piece of equipment in your studio without automatically issuing a benediction to the spirit of Raymond Scott.'' - Matt Black, COLDCUT