Sbarro restaurants release Muppet toys
By Cindy Chapman
Courtesy of Sbarro Restaurants
November 21, 1999
Sbarro Italian restaurants have begun a special national promotion for the recent video and DVD releases of "Muppets From Space". There are six toys in the set along with Muppet pizza boxes and bags.

The Rizzo toy was the first one released while the Miss Piggy toy was released this week. On each toy, you turn the knobs on the side and the pictures move, like a scroll. There's a clear plastic cover that allows you to draw on the pictures and then wipe it off. There are various games and puzzles as well as illustrations and photos. Each one has completely different pictures and games. For example, Miss Piggy's says "Miss Piggy's U.F.O. Mania! TV" while Rizzo's says "Rizzo's Covnet Headquarters Escape!"

There are six toys total: Gonzo, Rizzo, Kermit, Miss Piggy, Fozzie and Animal. It would've been nice to have seen Pepe included, but these are still nice collectibles.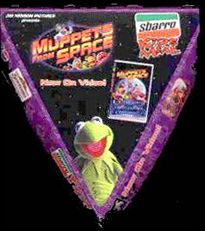 Besides the toys, the pizza box that the meal comes in is very nice. The box features a photo of Kermit promoting the video release. The side of the box has a small photo of Kermit, Miss Piggy, Fozzie, Animal, Gonzo, Rizzo and Pepe. The pattern on the rest of the box is a silhouette of Kermit.
A Muppety bag also comes with the kids meal which is kind of strange because there was nothing in the bag. It was just placed on the tray. The bag features an illustration of Gonzo flying through the air and on the other side he is sitting on the roof of the Muppet Boarding House with his telescope. On the sides there is an "Alien Analyzer" game where you choose which alien does not belong, and on the other side there is a "Guess Who" game featuring Gonzo, Kermit, Rizzo and Miss Piggy.