Big Bird stamp debuts in the US
Courtesy of the US Post Office
November 19, 1999
One of the most respected children's educational television programs, "Sesame Street", has been recognized with a new US postage stamp. The importance of educational programs such as "Sesame Street" has been recognized as they give children the opportunity to learn letters of the alphabet, words, numbers, and social skills. The "Sesame Street" stamp is one of 15 stamp subjects chosen by the public during nationwide balloting as part of the Celebrate The Century commemorative stamp and education program honoring the 1970s.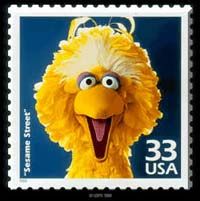 "Sesame Street" debuted on public television November 10, 1969. The show was designed to help preschoolers make the transition from home to school. Now 30 years later, "Sesame Street" has been enjoyed in over 140 countries and is still setting the standard for educating and entertaining children and families. The stamps were issued November 18, 1999 and join seven other panes of 15 stamps saluting the 1900s-1960s.
Other winning 1970s stamp subjects include: Secretariat, "All in the Family," Bicentennial, Earth Day, Pittsburgh Steelers, Disco Music, Fashion, Women's Rights Movement, Medical Imaging, "Pioneer 10," Videocassette Recorders, Jumbo Jets, Smiley Face, and "Monday Night Football."
All 15 Celebrate The Century 1970s stamps were designed by Howard Paine of Delaplane, Virginia. The "Sesame Street" stamp image features a photograph of the Big Bird character. The Celebrate The Century commemorative stamp and education program honors some of the most significant people, places, events and trends of each decade of the passing century.
According to the Children's Television Workshop, "Sesame Street" has garnered over 100 major awards, including 75 Emmys with 20 for Best in its Field and six consecutively for Outstanding Children's Series; two George Foster Peabody Awards; four Parents' Choice Awards; the Prix Jeunesse International; and an Action for Children's Television Special Achievement Award. Emmy awards. The 31st season of "Sesame Street" will premier on Monday, January 3rd on PBS.
The Sesame Street characters were created by Jim Henson who devised a form of cloth puppets that possessed great mobility. Known as Muppets, these characters were first seen in 1954, on a Washington, D.C., television station. They drew national attention when he used them in short skits on such television variety series as "The Ed Sullivan Show." In 1969 they formed the core of the "Sesame Street," and over the years Bert and Ernie, Oscar the Grouch, Big Bird, and Kermit the Frog became familiar in every household.
The Celebrate The Century series of 150 commemorative stamps, available on 10 stamp panes honoring each decade of the 20th century, captures 100 years of American history in a colorful and educational way. The 1980s stamps are scheduled to be issued in January 2000, and the 1990s in April 2000.