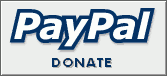 European Chess Set released in US
Courtesy of The Jim Henson Company
October 21, 1999
The Jim Henson Company and Wood Expressions (Gardena, CA) have signed a licensing agreement to manufacturer a chess set featuring the characters from the Kermit Collection. The deal allows Wood Expressions to distribute the chess set throughout the United States.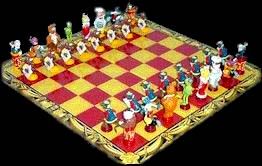 Kermit and Miss Piggy, His and Her majesty respectfully, rule this gold and burgundy- checkered domain. Among the loyal subjects are the knights, Animal and Gonzo; bishops, Fozzie Bear and the Swedish Chef; and castles, Statler and Waldorf. The pawn pieces are in the likeness of Rizzo the Rat.
Available this holiday season, widespread distribution channels include toy retailers, airport and hotel shops, bookstores, direct mail catalogs, card, gift, stationery and hobby stores.
"We are constantly searching for ways to introduce our new products and offer our great selection to our customers," said Donna Morita, President of Wood Expressions. "The Muppets have garnered so many fans through the decades that we are sure our chess set will do well at retail, appealing to a broad base of consumers."
"Wood Expressions' chess set is not only a high quality set, but it captures the essence of the Muppets in a unique and fun way," commented Richard Oren, Product Manager of Toys in the Licensing division of The Jim Henson Company. "We feel this product is sure to be a hit among chess enthusiasts and Muppets fans alike."
Founded in 1977, Wood Expressions, Inc. is a leading importer and distributor of board games. With chess sets being the specialty, a wide selection of styles are available including contemporary and traditional sets made of wood, pewter, marble, glass, onyx, lead and other materials. Wood Expressions also offers backgammon, cribbage, dominoes, go, mahjong, casino accessories, combination and travel sets and other unique games. All of Wood Expressions licensed products are exclusives for the United States and some are exclusive for Canada.