Kermit children's clothes coming to K-Mart
Courtesy of Go News
October 14, 1999
The Jim Henson Company's new children's brand, Kermit the Frog and Friends, will appear on an apparel line by Happy Kids to be sold exclusively in Kmart stores nationwide beginning in November. The Kermit the Frog and Friends brand features everyone's favorite frog with his hometown childhood friends.
Kermit, Ludlow the squirrel, Hattie the bunny, Heywood the beaver and other friends explore unknown territory in backyards and along riverbanks on this wide range of merchandise. The collection will feature embroidered and appliqued sportswear and activewear for newborns, infants 3 -- 24 months and boys and girls 2T -- 4T.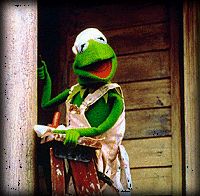 "Kermit the Frog and Friends will be a hit with moms and kids alike," said Lorna Nagler, Vice President and General Merchandise Manager for Kidsworld. "The styling, fabrication, durability, outstanding quality and value will make mom beam with pride. The fun-loving characters and vibrant colors will capture the spirit of today's kids who just can't get enough of their lovable pal Kermit."
"We are proud to be associated with The Jim Henson Company, one of the most respected leaders in children's entertainment and to continue our relationship with Kmart, one of the most respected names in retailing today," commented Jack Benun, President of Happy Kids.
"We are excited to be entering the children's category with Kermit after a seven year break from the mass market," said Judy Guarino, Vice President of Apparel and Accessories for The Jim Henson Company. "Kmart is a wonderful venue to showcase the Kermit the Frog and Friends' line. They have revolutionized the licensed character apparel business and raised the benchmark in terms of fashion and value."
Kmart Corporation erves America with 2,153 Kmart, Big Kmart and Super Kmart stores. In addition to serving all 50 states, Kmart operations extend to Puerto Rico, Guam and the U.S. Virgin Islands. More information about Kmart is available through the World Wide Web at http://www.kmart.com.
Headquartered in New York, Happy Kids is a leading manufacturer and marketer of licensed, branded and private label children's apparel.