Dark Crystal Prequel under consideration
Courtesy of Dark Horizons
October 6, 1999
UrSkek' has a very interesting rumor regarding a potential second "Dark Crystal" film. In fact the scoop also includes a short paragraph discussing the first film for those who've never heard of it. In any case remember this is rumor for now: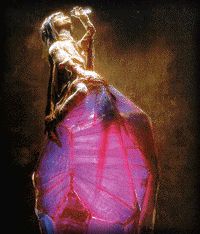 "Well, as you may or may not know, Jim Henson created and directed a film in the late seventies, early eighties called "The Dark Crystal" Mr. Henson himself called the film, "The most challenging work he has ever done. The film took about 5 and a half years to produce and was the first of it's kind as far as all puppetry and no humans is concerned. He worked with a huge team, Brian Froud (Labyrinth), was the film's creative impulse, turning out imagery of other worlds and other times. In the age of wonder."
"Well, we are now almost to the year 2000 and Mr. Henson's son is now working on a prequel for "The Dark Crystal." He is very detailed as far as wanting the same type of look and effect for the new film as his father used on the old. All puppets and hopefully, no CGI. His vision is to take the audience back to before the evil Skeksis took control, when the land was green and good and the Gelflings (the elvin race of people) were plentiful.
"Suffice to say the The Dark Crystal was not received as well as Jim Henson would have liked but his son is bound to reverse that. With the recent Star Wars film, he believes he has a shot at it. No word yet on a release date, still in preliminary stages. Brian Froud is back on board, along with many other members who worked on the first film. Frank Oz (co-director on the first film) is not official yet, he is watching the film's progress with much interest."