Sesame Street debuts in Russia
Courtesy of Children's Television Workshop
September 8, 1999
"Ulitsa Sezam,'' the Russian production of the classic children's series "Sesame Street,'' will debut on September 18th on CTC as part of its children's block. Airing every Saturday and Sunday from 9:30 a.m. - 10 a.m., with a repeat during the week, "Ulitsa Sezam'' is targeted for preschoolers and their families.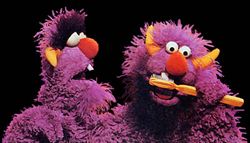 The series of 52 half-hour episodes was co-produced with renowned Russian director Vladimir Grammatikov (who led a team of 300 local actors, puppeteers, scriptwriters, animators, musicians, and researchers) and by Children's Television Workshop, the producers of the original "Sesame Street'' series. "Ulitsa Sezam'' teaches numeracy and literacy as well as focuses on Russian culture, national traditions and values.
Residents of "Ulitsa Sezam,'' set in a Russian dvor (courtyard), include three Muppet friends: Zeliboba, a 9-foot furry blue tree spirit who enjoys dancing; Businka, a bright pink Muppet who finds joy in everything; and Kubik, the resident pensive problem-solver. Live action and animation are also featured in the series.
Roman Petrenko, General Director of CTC Television, said, "CTC is positively thrilled to be adding 'Ulitsa Sezam' to our highly successful line up of children's programming. We are firmly committed to the interests of Russia's children and this ensures they will continue to have access to what is, without question, the most prestigious children's program on television.''
"We are excited to be part of the CTC family,'' said Steve Miller, Group Vice President, International Television and Licensing. "With its rapidly growing presence and influence in the television industry and its commitment to a strong children's block, CTC makes a great new home for 'Ulitsa Sezam.''' "Ulitsa Sezam,'' sponsored by Nestle, will also continue to air on ORT until the end of the year.
The CTC Television Network is broadcast in 263 cities across Russia and specializes in entertainment programming for Russia's young adults, teenagers, and children. Nationally, CTC is one of the top broadcasters in overall children viewership.