Bear begins 3rd season production
Courtesy of the Jim Henson Company
April 23, 1999
Production has started in New York at Lifetime Studios on the third season of Bear in the Big Blue House, the critically acclaimed, Emmy-nominated pre-school program created by Jim Henson Television. The third season episodes will begin airing July 1999 on Disney Channel.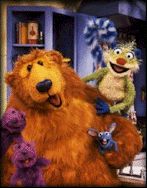 Brimming with creativity, learning and music, Bear in the Big Blue House is hosted by a seven-foot bear who exudes warmth, comfort and understanding. Along with his friends - Tutter (the industrious mouse), Treelo (the curious lemur), Pip and Pop (playful twin otters), Ojo (the little girl bear cub) and Luna (the wise moon), Bear teaches young children a real world curriculum. All the action takes place in the Big Blue House where songs are sung, stories are told and imagination and adventure reign. Through creative play, Bear provides a role model for caregivers to stimulate learning in their own houses.
Bear in the Big Blue House is the creation of Mitchell Kriegman, who also directs and executive produces the series. Brian Henson and Alex Rockwell also serve as executive producers.
Bear in the Big Blue House currently airs weekdays at 10:00 a.m. (ET/PT) and 1:00 p.m. (ET/PT) and Saturdays and Sundays at 8:00 a.m. (ET/PT) only on Disney Channel. For additional information on Bear in the Big Blue House, go to www.playhousedisney.com and www.henson.com.
The Jim Henson Company, an established leader in family entertainment for more than 40 years, is an independent multimedia production company; one of the top character licensors in the industry; a leading publisher of children's books; and home to Jim Henson Television, Jim Henson Pictures, Jim Henson Interactive and Jim Henson's Creature Shop™. The company is headquartered in Los Angeles with offices and production facilities in New York and London.
Disney Channel, combining original series, movies and specials with timeless classics, is the first full-time general entertainment television network designed for kids and families. Disney Channel is a subsidiary of The Walt Disney Company.