Fill your Muppet purse with Henson stationary
By Danny Horn
April 14, 1999
Henson has found a tremendous new licensee in Paper House Productions, which is making terrific new Muppet greeting cards and stickers. There are three die-cut greeting cards -- "die-cut" meaning that the cards are cut in the shape of the photos, or possibly that you'll die when you see how cool they are.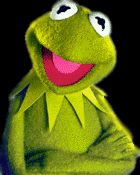 One card is a fantastic photo of Kermit smiling with his arms crossed. The second card is a glamorous full-body photo of Piggy posing in a purple gown. The third card is a two-shot of Piggy flirting with a bashful Kermit.
The "Sticky Pix" stickers are even better. There are three sets -- one each for Kermit and Piggy, and a Mixed Muppet set. The Kermit set is the same pose as his greeting card -- three large and twelve small stickers. Piggy's set includes six small stickers of her gown pose, with three larger stickers picturing Piggy lying on her front with her feet in the air, as seen from the front. (This is the same picture that Blue Q used in their recent Piggy magnet.) The mixed set includes six large stickers: Kermit/Piggy, Fozzie, Statler/Waldorf, Gonzo, Animal, and the Swedish Chef.
All of the stickers are cut around the photo, with no background, so they show up really well on any surface you stick them on. The photos are really bright and sharp, and any Muppet fan who gets their hands on these stickers will soon be seized with an irresistible urge to decorate everything they can find with Muppet photos. Nothing will be safe.

Paper House's cards and stickers are available through the fabulous 2 mom luv me web site. Buy lots of sets; you're gonna want to use them.
2 mom luv me also has the new Giftware International purses. Giftware International is the bizarre English company that's unaccountably spent the last year making backpacks and magnets in the shape of huge plush Muppets; now they've turned their hands to huge plush Muppet purses.
The Kermit purse is essentially a 14-inch full-length doll that's been hollowed out and attached to a black strap. The Fozzie, Gonzo, Animal and Rizzo purses are all representations of the characters' heads. Carry these purses out on the street and you are sure to get attention! To be frank, the Animal purse is really awful-looking; he looks squashed. Gonzo has also seen better days.
However, the Fozzie and Rizzo purses are really nice representations of the characters -- they're very similar to the heads of their backpacks. The Rizzo purse is an especially appealing notion -- it's not often that you see someone walking down the street carrying a purse in the shape of an enormous rat's head. The Kermit purse is quite nice; it's funny to have a purse with arms and legs.
It's possible that 2 mom luv me is the only store or web site that sells the Giftware International purses in the whole United States of America, so Kristin Krause (the "me" in 2 mom luv me) ought to be lauded and praised by all Muppet fans for her willingness to track down the latest and most hard-to-find Muppet merchandise items. Go scrounge the money out of your old purse and buy yourself a new purse. One with ears and whiskers.