Muppets From Space to visit Travelodge Hotels
Courtesy of the Jim Henson Company
April 5, 1999
This summer's hot new movie release from Jim Henson Pictures, Muppets From Space, promises to be a huge family comedy success. As daredevil Gonzo steps into his first starring role, with his friends Kermit the Frog, Miss Piggy, Rizzo the Rat, Fozzie Bear, Animal, Dr. Teeth and the Electric Mayhem Band and many of the other beloved classic Muppet characters, movie-goers will once again revel in the magic of the Muppets and want more. That's why this summer, guests staying at participating Travelodge® and Thriftlodge® properties will have the chance to own a most treasured classic Muppet video of their very own.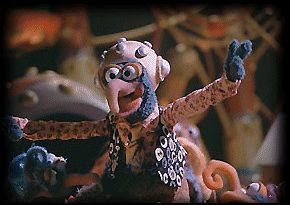 During the "Blast Off With The Muppets" promotion, taking place at participating Travelodge and Thriftlodge properties from June 7th through September 10th, guests can automatically earn a free video of The Muppet Movie, The Great Muppet Caper or The Muppets Take Manhattan from Travelodge Hotels, Inc. just by earning 750 miles in the free Travelodge Miles(SM) frequent guest program.
"The 'Blast Off With The Muppets' promotion is one in a series of 1999 seasonal promotions designed to thank guests who are, or become, Travelodge Miles program members with value-added gifts," said Dorothy Dowling, vice president of marketing for Travelodge. "Partnering with such an exciting, family comedy movie as Muppets From Space is a natural fit for us since most of our guests are leisure travelers, with many traveling with their children."
"It is wonderful to see these great brands coming together to create a great family promotion that will make Travelodge 'the place to be' and Muppets From Space 'the movie to see' this summer!" said Mark Workman, senior vice president of global strategic marketing for Columbia Pictures.
"This promotion not only delivers great exposure for Muppets From Space," said Amy Ginsberg, Director of Marketing, The Jim Henson Company, "but through Travelodge, families will have the opportunity to share a piece of the wonderful Muppet history in these three hilarious, classic films."
During the promotional period, Travelodge Miles members can also redeem 250 of their Travelodge Miles for a Muppet movie video - and members can redeem Miles for as many videos as they want throughout the promotional period.
Three Exciting Classics
The movie that started it all, The Muppet Movie, celebrates its 20th anniversary this year. In this hilarious parody of Hollywood, Kermit, Miss Piggy and a wacky cast of characters make their way to Tinseltown in search of stardom and bump into everybody who is anybody. The movie features the ever-popular song, "The Rainbow Connection" by Paul Williams.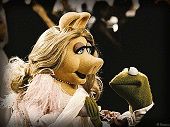 In The Great Muppet Caper, Kermit and his friends set out to apprehend treacherous villains, retrieve priceless jewels and go for that magical happy ending.
The Muppets give new meaning to the show biz phrase "the show must go on" in The Muppets Take Manhattan. Kermit and the entire Muppet gang are Broadway-bound to turn their "Manhattan Melodies" into a major musical hit.
All three movies received numerous awards and accolades, such as Academy Award® nominations, Best Family Picture Annual Award and a Grammy.
The next Era of Muppet Mania
Muppets From Space is a hilarious extraterrestrial adventure about the search for Gonzo's past. On a quest with buddy Rizzo to find his real family, Gonzo discovers that his long-lost relatives are actually aliens from a distant planet. After announcing to the world on Miss Piggy's talk show, "UFO Mania," that he is living proof that "we are not alone in the universe," Gonzo becomes the target of a paranoid government operative, K. Edgar Singer. In the end, Gonzo must not only escape the Singer compound, but also decide to either board the mother ship and join the family that he has always wanted, or stay on earth with the friends that he has always known and loved.
Muppets From Space, a Jim Henson Pictures presentation distributed by Columbia Pictures, is directed by Timothy Hill, making his feature film directorial debut from a screenplay written by Jerry Juhl and Joseph Mazzarino and Ken Kaufman. The film is produced by Brian Henson and Martin G. Baker and executive produced by Stephanie Allain and Kristine Belson. Director of photography is Alan Caso.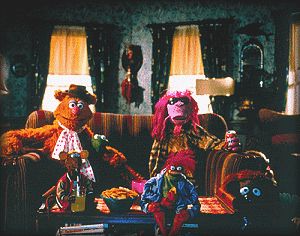 Muppets From Space features such exciting actors as Jeffrey Tambor (K. Edgar Singer), F. Murray Abraham, David Arquette, Josh Charles, Pat Hingle, Hollywood Hogan, Ray Liotta and Andie MacDowell.
The Travelodge Miles Program, launched June 1, 1997, offers guests one Travelodge Mile for every qualified lodging dollar they spend at participating Travelodge and Thriftlodge properties. Miles accumulated can be redeemed for merchandise listed in the Travelodge Miles brochure, including free hotel nights, rental cars, airline frequent flyer miles, great merchandise and more. Since its inception, this growing program has added more than 100,000 members. Consumers interested in joining the Travelodge Miles program can pick up an application, with swipe card, at the front desk of any Travelodge or Thriftlodge location or join online at www.travelodge.com.
Jim Henson Pictures was formed in 1995 by The Jim Henson Company and Sony Pictures Entertainment to develop and produce unique feature films for audiences of all ages. The Jim Henson Company, an established leader in family entertainment for more than 40 years, is an independent multimedia production company; it is one of the top licensors in the industry, a leading publisher of children's books, and home to Jim Henson Television and Jim Henson's Creature Shop™. The Jim Henson Company is headquartered in Los Angeles, with offices and production facilities in New York and London. The Jim Henson Company's website is located at www.henson.com.
Columbia Pictures, part of Columbia TriStar Motion Picture Group, is a Sony Pictures Entertainment company. Sony Pictures' global operations encompass motion picture production and distribution, television programming and syndication, home video acquisition and distribution, operation of studio facilities, development of new entertainment products, services, and technologies, and distribution of filmed entertainment in 67 countries.
Sony Pictures Entertainment can be found on the World Wide Web at www.spe.sony.com.
Travelodge Hotels, Inc. is a hotel chain with more than 550 upper-economy Travelodge and budget Thriftlodge franchised properties offering more than 45,000 guest rooms throughout Canada, the United States and Mexico. Travelodge is a subsidiary of Cendant Corporation (NYSE:CD). For reservations or information, the toll-free numbers are Travelodge: 1-800-578-7878 and Thriftlodge: 1-800-525-9055, or visit the company's Internet web site, located at www.travelodge.com.