Brats renewed for second season
By Brian Knatchbull
Courtesy of YTV Television Network
February 12, 1999
The YTV Television Network in Canada has ordered a second season of 13 episodes of "BRATS of the Lost Nebula."
YTV also co-produces the series and is very happy how it has performed and the following it has earned. It has already aired its first season of 13 episodes and is currently in its second cycle. The show airs Wednesdays at 6:30pm ET.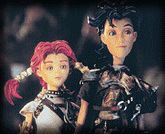 John Delmage of Decode Entertainment, which also co-produces the series with Wandering Monkey and The Jim Henson Company, has also confirmed the second season renewal.
In talks with Marie Scampini of The Jim Henson Company, she has told me that The Jim Henson Company is looking for another home for BRATS in the U.S.A. Nothing is secured yet but is expected sometime soon.
The first season of Brats included 13 episodes bringing the current total of episodes to 26.