Odyssey will re-launch on April 4 and general manager appointed
Courtesy of Odyssey
February 5, 1999
Susan Frank has been named General Manager and Executive Vice President, Odyssey Entertainment Group, the programming and marketing arm of Odyssey Channel, as the cable network readies for an April 4 re-launch with its new partners The Jim Henson Company and Hallmark Entertainment. Announcement of the appointment was made by Margaret Loesch, President and CEO of Odyssey Channel, to whom she will report.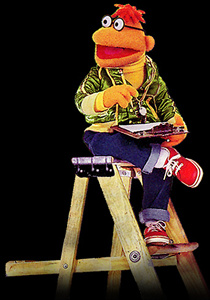 Ms. Frank moves to Odyssey after serving as Executive Vice President, Corporate Marketing Worldwide, for The Jim Henson Company since July 1998. She began her association with Henson in February 1998 as a consultant, assisting in the marketing and positioning of the company's planned cable venture, a role she continued after being named the company's chief marketing executive.
Odyssey Channel recently formed a new partnership with Hallmark Entertainment and The Jim Henson Company. The revised programming service will broaden the channel's current programming mix to include original television entertainment from the creative auspices of Henson and Hallmark as well as drawing from the companies' acclaimed and vast television libraries.
In her new position, Ms. Frank will be involved in the overall strategic planning for the network, with day-to-day responsibility for the direction of Odyssey's programming, marketing, on-air promotion, communications and publicity, interactive and on-line operations.
"Susan has been invaluable in helping to establish the new positioning for Odyssey,'' said Ms. Loesch. "Her formidable marketing skills and her vast promotional experience will give a synergy to all of our content, tying together all elements from programming to on-air branding to give us great consistency and vibrancy.
"With product from Hallmark Entertainment and The Jim Henson Company, our channel represents two bullet-proof brands, which will help insure our future success. With Susan we now also have one of the best branding minds in the business. I'm delighted that she is joining us, and grateful to our partner, The Jim Henson Company, for recognizing the value of this transition and supporting it.''
During her tenure at The Jim Henson Company, Ms. Frank has overseen all global marketing initiatives for the company, including its corporate branding and the marketing strategies for its varied properties. She has directed the marketing efforts for the July 1999 release of Henson's "Muppets from Space'' feature film and has been instrumental in developing marketing and branding strategies to maximize the company's valuable Muppet franchise through home video, licensing, feature film, television and themed-entertainment opportunities.
She has also directed marketing efforts for Henson's television productions, including the hit children's series "Bear in the Big Blue House'' on Disney Channel, and the upcoming premieres of the action-adventure series "Farscape'' on the Sci-Fi Channel (March 1999) and the live-action comedy series "Family Rules'' on UPN (March 1999).
Before joining The Jim Henson Company, Ms. Frank served as Executive Vice President of Marketing and Promotions Worldwide for Fox Children's Network, where she reported to Ms. Loesch. Prior to that, she was Senior Vice President of Hanna-Barbera, with overall responsibility for the animation studio and library, including managing the company's business affairs, marketing distribution, operations, administration and finance divisions. Her responsibilities also included Hanna-Barbera Enterprises, a unit dedicated to non-program production based businesses.
Prior to that, Ms. Frank spent 16 years in a variety of regional and national marketing positions at McDonald's Corporation, ultimately overseeing all national and international promotions as Director of National Marketing. While at McDonald's, she created and implemented the company's overall entertainment directive, which resulted in co-production deals with music, theatrical, television and video operations.
Odyssey Channel is a 24-hour programming service available to nearly 30 million homes via 1,500 cable systems, the Primestar direct-to-home satellite service (Channel 84) and C-Band dish owners nationwide. It is owned and operated by a partnership of Hallmark Entertainment, The Jim Henson Company, Liberty Media Corporation (LBTYA) and the National Interfaith Cable Coalition.