TV Guide honors "Muppet Christmas Carol"
Courtesy of TV Guide
November 26, 1998
The Muppets make an appearance in TV Guide this week (Nov. 28-Dec. 4 issue, with Kristen Johnson on the cover). An article on "10 Best Christmas Movies" includes "The Muppet Christmas Carol" at number 10. The Christmas Carol box reads: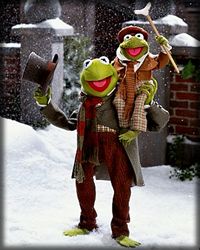 "Michael Caine may not be Alistair Sim, but his Scrooge manages to keep his overstuffed costars from running off with this version of Charles Dickens's classic. Kermit does a noble Bob Cratchit; Fozzie Bear is, naturally, a mirthful Fezziwig; but clearly the stars of this particular repertory company demanded rewrites. Miss Piggy's Mrs. Cratchit eats all the food before Bob gets home, and there are two Marley ghosts -- Jacob and Robert -- played by hecklers Statler and Waldorf, for whom the true meaning of Christmas is making fun of the rest of the cast."
The tribute is rounded out by a nice big Muppet Christmas Carol photo of Kermit, Piggy and Robin on the Contents page, and a mention in the "Holiday Viewing Guide" of the movie's airing on the Disney Channel. Back when the movie premiered in '92, the producers were hoping that Muppet Christmas Carol would become a perennial Christmas favorite; this is a nice sign that the movie is starting to reach that level.