Miss Piggy's perfume "Moi" debuts
By Phillip Chapman
Courtesy of The Jim Henson Company
October 30, 1998
There is a "seductive new fragrance inspired by the Divine Swine" herself. The perfume is called "Moi" and it's slogan is...
'At the End of the Day, There is Only Moi'
. . . Miss Piggy, Star Extraordinare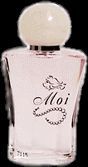 The perfume debuted Thursday at a celebration of Miss Piggy's signature scent, Moi, to Miss Piggy's dearest friends and confidants -- celebrities, fragrance, fashion gurus and entertainment VIPs. Packaged in a black velvet pouch, each 1.7 oz numbered collectible bottle of Moi features an elegant rendition of the divine swine's unmistakable profile, right down to her signature single strand of pearls, and is available only at Bloomingdale's stores nationwide, Bloomingdale's by Mail Catalog and through a toll-free number, (800) 555-7467. Moi has a retail price of $24.00.
In 1995, "Amphibia", Kermit's first cologne also debuted at Bloomingdale's stores nationwide.